The 40-Year-Old Virgin (2005) - 2-Disc Double Your Pleasure Edition
Genre(s): Comedy --> Sex / Romance
Universal || Unrated - 133 minutes - $24.98 || May 22, 2007
Reviewer: Brian Oliver || Posted On: 2007-05-10
---
---
---
.::MOVIE INFORMATION::.
---
Director: Judd Apatow
Writer(s): Judd Apatow (written by) & Steve Carrell (written by)
Cast: Steve Carrell, Catherine Keener, Paul Rudd, Romany Malco, Seth Rogan, Elizabeth Banks, Leslie Mann, Jane Lynch


Theatrical Release Date: August 19th, 2005




.::DVD INFORMATION::.
---
Supplemental Material:

Disc 1:

Filmmakers' & Cast Commentary
Deleted Scenes
Knocked Up Theatrical Trailer*


Disc 2:

You Know How I Know You're Gay?
Date-A-Palooza
Line-O-Rama
Judd's Video Diaries*
Auditions*
Raw Footage*
Rehearsals*
Comedy Central's Reel Comedy Roundtable*
Cinemax Final Cut*
1970s Sex-Ed Film*
My Dinner with Stormy
Gag Reel
Waxing Doc


* - New Features
Technical Information:
Number of Discs: 2
Widescreen (1.85)
English (Dolby Digital 5.1), French (Dolby Digital 5.1), Spanish (Dolby Digital 5.1)
Subtitles: English, French, Spanish
Comment on this and other movies on the message board!
---
.::THE FILM::.
---
This is now my third viewing of The 40-Year-Old Virgin on DVD and it's, as far as I can tell, the same unrated version already out there so this isn't a different movie. To save time, I will just repost my original review that, in turn, contains my original theatrical review.

Original DVD Review:
Uncomfortable but undeniably funny that'll leave you red in the face at several moments. I first saw this on opening weekend in a crowded theater and although there's was plenty of laughter, I could tell it was guarded in the beginning. So, I have now seen it twice with an additional 17-minutes of unrated footage, scenes that indeed were actually dirtier. Now, some parts might've been cut for time reasons as these scenes, while littered with sexual language, I doubt it would've raised the MPAA rating to an NC-17 level. In any case, even though the film goes over the two-hour mark, it doesn't feel long and the comedy is just as funny.

Original Theatrical Review:
"Do you like to do IT yourself?"

The 40 Year-Old Virgin is a cross between American Pie, the recent comedy hit, Wedding Crashers with a little There's Something About Mary sprinkled in (but minus the lube in the hair). In itself, Virgin is simply put, a funny film. While it is not the funniest movie I've seen this year (which goes to Crashers), it's worth the price of admission.

Steve Carrell is Andy Stitzer, an electronics stock room guy by day and movie/collectibles geek by night. Somehow, Stitzer has gone 40 years without doing the deed, in fact, the relationship part of his life is damn near non-existent. After a night of poker, his colleagues (Rudd, Malco, Rogen) find out that he's a virgin, they make a vow to get Andy laid. Their ideas of getting this to happen -- including hiring a prostitute who turns out to be a transvestite --, overwhelms Andy, though being the good comedy this is, he soldiers on and he does manage to meet a woman who is genuinely interested in him.

Trish (Keener; The Interpreter) runs an E-Bay story (where people take their stuff to her and she sells it on E-Bay) across the street from the electronics store. Giving him her number, the games really begin, as Andy must learn how to deal with the issue of sex. Does he tell her? Should he do what his friends suggest and get as much of it as he can for practice?

The 40 Year-Old Virgin isn't a gut busting comedy, but it does have a certain sweet factor going for it combined with some off-beat, non-PC (or is it un-PC) humor making it a worthy film to see in theaters. For Carrell himself, while I don't think he has the talent to consistently carry a film himself (like Jim Carrey or Adam Sandler), he still has propelled himself up from his 6 years working on "The Daily Show" where he played wild and zany characters covering news "stories". His next biggest role was in last year's Will Ferrell obnoxious comedy vehicle, Anchorman (which upon second viewing I found to be annoying), where he plays a retarded weather guy.

Carrell's supporting cast mates are also funny in their respective roles. Much like the film itself, they're good enough and fill out their parts just fine. There's no real standout performance amongst them, but they compliment Carrell nicely and provide some good and funny moments to the movie.

I also cannot forget to mention two of the females in Catherine Keener, playing a fun and sweet love interest, and Elizabeth Banks whom I recently saw in the drama Heights. Banks doesn't have a whole lot of screen time, but she demonstrates a certain charm which works across different genres.

This mix of juvenile comedy with some sweet/cute romance works well enough for me. It's a fun comedy to watch on a Friday night with your loved one (or if you're like Andy... by yourself) so it's difficult for me to say anything really bad about the film. The humor itself, however, might find some people in an awkward position. No, I'm not really talking about the virgins out there. Virgin or not, this film will no doubt make even the most "experienced" person blush. I remember feeling a little uncomfortable while watching the American Pie movies but that had nothing on the comfort (or lack there of) on Virgin.

Like summer popcorn flick Mr. & Mrs. Smith, The 40 Year-Old Virgin delivers (for the most part) what it promises: a funny and raunch-esque end of summer film that'll make you laugh and overall be a satisfying comedy. Frankly, given today's climate of comedies that seem to try too hard to get the laughs, that is fine by me. Now, the reason for my rating I can only say is that it is a good film, though not the hilarious comedy I had heard about from friends.



---
.::SPECIAL FEATURES::.
---
Well, Universal is releasing another edition of The 40-Year-Old Virgin and sadly, for those who already own the original unrated edition, it's not worth double-dipping on. Also, why Universal didn't take this opportunity to include the theatrical version (in widescreen), is beyond me.

There are only a handful of original material included this time out so I've reposted my thoughts from the original DVD review followed by the new features.

Filmmakers' & Cast Commentary - Universal certainly went all out here in not only getting co-writer/director Apatow and star Steve Carell, but nearly the rest of the cast were there to talk. Joining Apatow and Carell is Paul Rudd, co-writer/actor Seth Rogan, Leslie Mann (Apatow's wife), Romany Malco, Jane Lynch, Gerry Bednob and Jonah Hill (the eBay shopper). In spite of the number of cast members on hand, this might've been one of those rare times that spreading them across a couple tracks would keep the commentary on topic, but I'd rather have this than these commentators spliced in sporadically through the picture.

Deleted Scenes - There are six scenes in all (nearly 13-minutes worth), each ranging from being extended to an alternate ending to the drunk driving scene. They're each pretty funny but belonged in neither the theatrical nor the unrated versions. Optional commentary with Apatow and Rogen available.

You Know How I Know You're Gay?, Cal & Paula, Advice from Mooj, Waxing Doc and Date-A-Palooza - I decided to combine all of these together since each are basically ad-libs with the various actors as they go off script and riff into all sorts of directions. For instance, "You Know How..." is one long outtake between Rudd and Rogan sitting playing the video game. Even during the commentary between Apatow and Rogen admitted (during filming), the footage was DVD material. Or "Waxing Doc" goes behind the scenes showing Steve Carell getting his chest hair waxed (for real) as the other actors look on and try not to break character... too much. The "Date-A-Palooza" are more extended takes with the primary cast and the ladies including a conversation with David's (kinda cute) ex-girlfriend and Andy. In any case, each of these are quite funny but obviously could not be in the feature film.

Andy's Fantasies - An extended take when Andy decides to make a night to "be" with himself and fantasizes of a woman (this part is new to the unrated version), but what's here is something even dirtier that Apatow didn't want to add back in... This a scene that may have granted an NC-17 rating.

Line-O-Rama - Compilation of several improv lines in various scenes with different lines (thus proving how loose some the set probably was during certain scenes). One of the better alternate lines comes from Rudd who goes through several versions describing Matt Damon ("I used to think Matt Damon really kind of needed a beat down").

My Dinner with Stormy - Co-writer/Actor Rogen has an intimate dinner (actually, it's a bottle of wine) with adult star Stormy as an "interview" turns into something more by the end.

Gag Reel - The last feature is normally my favorite on many DVDs and this one is no different. With all the ad-libs/improvs in the movie, flubbed lines and outbreaks from the other cast members were expected. For me, this is the funniest damned thing on the DVD.

**NEW FEATURES**

(More) Deleted Scenes - Along with the initial deleted scenes -- they've also included the "Cal & Paula", "Advice from Mooj" and "Andy's Fantasies" scenes -- there are 15 more deleted scenes that are, surprisingly enough, funny. These scenes, however, are not accompanied with optional commentary like the others. Of note, I think Jenna Fischer from "The Office" is featured in one of the scenes...

Judd's Video Diaries (20:38) - This is like most filmmaker diaries on other releases and gives that 'behind-the-scenes' glimpse the previous release was missing. The diaries are split up by shooting day and are funny but only worth one viewing.

Auditions (7:30) - Now you can watch the audition tapes of some of the minor characters like Jonah Hill (the E-bay story kid), Elizabeth Banks, Romany Malco, Shelley Malil, Jane Lynch, Gerry Bednob and Jazzmun. They are viewable individually or using the "play all" option.

Raw Footage (19:17) - If you thought the ad-libbed footage wasn't enough, now you get more Steve Carell as he goes through a variety of lines in three key scenes including the famous man-o-lantern one. Goes on too long but maybe fans of Carell will appreciate it.

Rehearsals (5:06) - The cast goes over a script re-write of the poker scene (where Andy's virginity becomes known). This is just four of the guys sitting in a bare room trying out the script.

Comedy Central's Reel Comedy Roundtable (21:05) and Cinemax Final Cut (12:44) - I've combined these two made-for-TV promotions featuring the cast and director Judd Apatow talking about the movie and various scenes.

Also included is a 1970s Sex-Ed Film and the theatrical trailer for Knocked Up.

From what I could tell, the only thing NOT ported over is a hidden deleted scene titled "Whack Off".

NOTE: Officially, I'm giving the special features a positive 4.5/5 rating but this new material only rates maybe, if this were the only features included, a 2.5/5.



---
.::AUDIO & VIDEO::.
---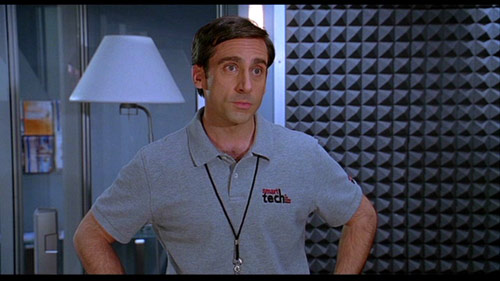 The film is presented in anamorphic widescreen, 1.85 OAR, and, as far as I could tell, is the same transfer.

The only difference in the audio department is Universal has added French and Spanish Dolby 5.1 tracks. The English 5.1 track is still the same as before.



---
.::OVERALL::.
---
Unlike some DVD collectors, I don't mind these double-dips so long as there are significant changes/additions from a previous release. While I applaud Universal for not going the Sony route and not porting over some features (especially commentaries), at the same time I scold them for not including considerable features that would make this worthwhile for those who already own the original set.

As for the movie, it's still as uncomfortable as ever but as funny as the first time I saw it, although I wish Universal included the superior theatrical version (only available in Full Screen). If you don't own the previous release, go ahead and pick this up as it also includes a free ticket to Knocked Up (expires June 17, 2007).