88 Minutes (2008) [Blu-ray]
Genre(s): Crime / Drama / Thriller
Sony || R - 107 minutes - $38.96 || September 16, 2008
Reviewer: Brad Lowenberg || Posted On: 2008-09-06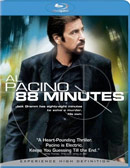 ---
---
---
---
---
.::MOVIE INFORMATION::.
---
Director: Jon Avnet
Writer(s): Gary Scott Thompson (written by)
Cast: Al Pacino, Alicia Witt, Leelee Sobieski, Amy Brenneman, Deborah Kara Unger, Benjamin McKenzie, Neal McDonough


Theatrical Release Date: April 18, 2008




.::DVD INFORMATION::.
---
Supplemental Material:
Feature Commentary
Alternate Ending
Director's POV
The Character Within
BD-Live
Technical Information:
Number of Discs: 1
Widescreen (2.35)
English (Dolby TrueHD 5.1)
Subtitles: English, French
Comment on this and other movies on the message board!
---
.::THE FILM::.
---
I use to hate these types of films but slowly over the past few years I started liking them just a bit more. 88 Minutes is a film we have all seen before in one way or another. The premise is hardly new and it does nothing re-invent the genre its clearly copying from but itís still an enjoyable, slow, popcorn flick.

88 Minutes stars Al Pacino as Professor and Doctor Jack Gramm, a forensic psychiatrist who, nearly a decade ago, put away a serial killer by the name of Jon Forster (Neal McDonough). Years later we find Jack teaching at a local college when news gets out that someone out there is killing in the same way that Forster was and is trying to setup Gramm to take the fall. Doubt arises because many are wondering if Jack really put away the real killer, or if his evidence was really convincing and an innocent man was sentenced to death (which just so happens to be at the end of the day).

Jack suddenly starts receiving phone calls that tells him he has 88 minutes left to live so Jack sets out to try and capture the copycat killer and prove his innocence. He is joined by his student Kim (Alicia Witt) and begins to slowly put together clues to find out who is working with Forster and who else may end of being the latest victim of the copycat killer.

The main problem with the film is they setup so many potential 'copycat' killer's that there really is no reason to try and figure it out yourself...because you can't. Sure when the big reveal is finally made, some things start to click, but the same could have happened if they chose Character A or Character B instead. What's interesting about the film is that when Gramm gets the phone call letting him know he has 88 minutes left to live, we actually follow him in real time until he finds the killer. Itís a neat little concept, but I'm a bit baffled as to why we didn't get a small ticker at the bottom of the screen to build-up the suspense a bit more. Too bad this couldn't be added as a special feature.

We get a huge cast of young, potentially like-able characters, but you wind up hating all of them and wishing they would get picked off by the killer so we wouldn't have to deal with them (nor think of them as the potential killer). Some of these include his students Mike Stempt (Benjamin McKenzie), Lauren Douglas (Leelee Sobieski), Kim Cummings) (Alicia Wiit) as well as Dean Johnson (Deborah Unger) and his secretary Shelly (Amy Brenneman). With such a large cast that eventual comes into contact with Jack, you'll slowly start to see why each one could potential be the killer and why each one simply does not want to be in the film.

Acting is, across the board, pretty bad. Al Pacino gives us a decent performance, but you can see his heart is not in it. He's here for a paycheck, and that's fine with me. The students each give poor performances - Leelee being by far the worst (when is she ever good?). Poor Benjamin McKenize, his first movie role off of ďThe O.C.Ē and he's only in the film for a few scenes and he acts just like Ryan Atwood would from the show if he was taking a forensics class at the local university. Alicia Witt, well, I liked her in Urban Legend and she does an alright job... but she should never be the leading lady. But man... does she look amazing in those jeans and slinky tank top.



---
.::SPECIAL FEATURES::.
---
All features are presented in SD.

Commentary with Director Jon Avnet - While the commentary is pretty interesting, having Avnet alone is also boring. He tends to get a bit too technical for my liking, but still a decent track.

Alternate Ending (~10 Minutes) - We get the Theatrical conclusion to the film once again, but they went ahead and added several new scenes that help flesh out the ending a bit more. I really liked this one as it gave us closure over several of the characters, including his students.

Directorís P.O.V (~8 Minutes) - A pretty boring short interview where John speaks about how awesome it was to work with Pacino and gives us a few nibbles of information on the film.

The Character Within (~8 Minutes) - In a reverse, Al Pacino talks about how awesome it was to work with Avnet and how he "worked" the Jack Gramm character.

BD-Live - Just like all other BD-Live titles, this is not available until the titles release day. Most likely itís just trailers and previews for other Sony films like before.



---
.::AUDIO & VIDEO::.
---
88 Minutes is presented in its Original Aspect Ratio 2.35:1 (AVC/MPEG-4) on a 50GB Disc. An average transfer that provides some decent blacks and rich colors. Unfortunately for Pacino, this disc really does bring out his age (wrinkles, pours) as everything is as clear as day.

Sony has included an English (and French) Dolby TrueHD 5.1 Track for this release as well as subtitles in English (and SDH) and French. Once again, another average mix that brings consistent dialog and sound. While Dialog was clear and easy to hear, I simply wasn't wowed by this track. It seemed very somber and even the one big explosion didn't do anything.



---
.::OVERALL::.
---
88 Minutes is simply an average action/thriller and should be treated as such. Sure, I enjoyed the film, but itís not something I would ever plan on watching again in the near future, especially when there are other films that take the same concept but one-up in many times over. The Blu-ray release includes an average transfer, average sound, and such a small amount of extras that I would recommend a rental only.