Cadillac Records (2008) [Blu-ray]
Genre(s): Biographical / Drama / Music
Sony || R - 108 minutes - $39.95 || March 10, 2009
Reviewer: Tyler Thomas || Posted On: 2009-03-11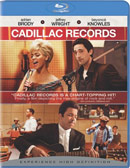 ---
---
---
---
---
.::MOVIE INFORMATION::.
---
Director: Darnell Martin
Writer(s): Darnell Martin (written by)
Cast: Adrien Brody, Jeffry Wright, Gabrielle Union, Emmanuelle Chriqui, Beyonce Knowles


Theatrical Release Date: December 5, 2008




.::DVD INFORMATION::.
---
Supplemental Material:
Feature Commentary
2 Featurettes
Deleted Scenes
Interactive Feature
BD-Live
Technical Information:
Number of Discs: 1
Widescreen (2.35)
English (Dolby TrueHD 5.1), French (Dolby TrueHD 5.1)
Subtitles: English, English SDH, French
Comment on this and other movies on the message board!
---
.::THE FILM::.
---
Leonard Chess (Adrien Brody) wants to be better than the life he currently lives. His girlfriendís father finds them together and walks her out of his place, only to tell him that his daughter deserves better and she wouldnít be with someone like him. Chess, disturbed by what he just heard, mutters to the father that he will be something in his life and his wife will drive a Cadillac. So he sets out to do just that, and is starting up a club, and when heís walking around after talking to a female about the car sheís driving, gets a cryptic warning from a stranger. The man tells him that setting up a blues club is dangerous in this part of town, as heís already lost two of his daughters to blues players already.

Muddy Waters (Jeffrey Wright) is playing his guitar on the street, and disturbing the peace according to Geneva (Gabrielle Union). She asks how many addresses he has in his pocket, only for him to pull out the papers and throw them in the street. The two somehow end up getting it on shortly thereafter, and when thatís done he jokes about the kids at the apartment needing a father. Geneva responds that he needs to get a steady income to be one, which makes Muddy a little bit angry and he leaves, only to return later with a guitar later and play again right under her window with help from her.

Chessís club gets a few people to play one night, and comes under fire from a local person who tries to shoot up the club. Chess grabs a gun, but the dispute gets settled quickly without any violence. He ends up getting a record deal for Muddy with help from an agent Isabella (Tammy Blanchard), but first they want the record to be played on the radio. He has to bribe the DJ with a bottle of liquor, but the record gets played and Isabella storms out for what he had to do to get the record played.

Some girls come to their room later that night, saying they heard him on the radio, and both Chess and Muddy play a few songs for them. Apparently the blues genre had groupies too back in the day. Chess leaves him alone with the groupies, and the two exchange words, when Chess mentions that heís married to Revetta (Emmanuelle Chriqui), and Muddy mentions that sheís not a red head (implying about Isabella). The two the next day sign a contract for Muddy to be with Chess records, and as a bonus Muddy gets the car Chess drove in. The DJís are now becoming more in tune to Muddyís music, as it grows in popularity, although they call it ďrace music.Ē

Upon returning home, Chessís club is burned down. He uses the insurance money to get a studio going in Chicago, aptly named Chess Records. Another musician by the name of Little Walter (Columbus Short) joins the group, along with Jimmy (Kevin Mambo). A year later, Walter is given a Cadillac as a gift similar to Muddy. Willie Dixon (Cedric The Entertainer) meets Walter and Chess, and wants to show him what he can do with the giant guitar thing. Iím not a musician, is it a cello? No idea.

The rest of the movie consists of the relationships between the band mates, Leonard and his meeting of Etta (Beyonce Knowles), and a few other stories that I wonít spoil. The last twenty minutes of the movie are rather good, and the ending (although if you know anything about history probably know it) fits the movie perfectly.

However, I didnít really enjoy the movie that much. Iím not one for history films, as though we already know what happens at the end or throughout most of the movie. The acting is top notch though for the flick, as Brody gives one of his best performances to date, as does everyone else. I just canít get into a movie that I already know a lot about, so hence, I didnít like it as much as other people probably will.



---
.::SPECIAL FEATURES::.
---
Commentary with Darnell Martin: Director and co-writer Darnell Martin goes solo on the commentary, and itís fairly entertaining. Martin discusses a few stories about the casting and the crew of the movie, and also gives some intelligent insight into the background of the film as well. A great listen if you enjoyed it and want to know a little bit more, although her voice is a tiny bit raspy and does run a bit thin after thirty minutes or so.

Deleted Scenes (5 minutes): A total of five deleted scenes that didnít make it into the movie. The first one probably should have been in the movie, as it gives a bit of background into why Walter came into the studio, but the rest can be skipped.

Playing Chess - The Making of Cadillac Records (26 minutes): This is a lengthy feature that deals with the history of the movie, as well as cast and crew interviews about it as well. Itís pretty interesting if you want to know more about the characters from the film.

Once Upon A Blues - Cadillac Records By Design (15 minutes): This feature talks about the importance of the people who were in this movie that influenced a generation of music. Once again, if you want to know more about the Cadillac Records and about the crew who worked on the film, then this is a great extra for you.

**Blu-Ray Exclusives**

The Chess Record Player: Going all out on the exclusives for the film, this is a cool little extra that allows you to build a playlist of songs heard from the movie and e-mail them to friends and share your playlists as well. Iíd recommend turning this feature on before you start the film, otherwise you need to re-watch the movie all over again to do this.

BD-LIVE: Your standard feature that allows you to preview other titles and movies coming out or already available for purchase.



---
.::AUDIO & VIDEO::.
---
The movie is given a ďhistoricalĒ look in my opinion, as colors appear rather dreary and outdated. I would have to assume that this is how it was intended to look, as though the movie is set around the 1950ís era. Colors are a bit washed out, and flesh tones arenít as bright or vibrant as they probably should be. Contrast is fine though for the duration of the movie, and there werenít any major issues with grain or distortion. Itís not a pretty transfer, but this is still a good one since thatís how itís supposed to look.

The audio side of things doesnít fare as well for the movie, as the Dolby TrueHD 5.1 track fails to really give viewers the feel that they are watching a dialogue film. Surrounds were rarely used if at all for the movie, and dialogue levels were low but the characters lines were accurate and crisp. I honestly donít think my sub even turned on until at least fifteen minutes in, and then shut off for a while before randomly turning on again. Itís not anywhere close to demo material, but it does get the job done in the sense that there arenít any major issues with the audio other than some low levels and lack of surround use (which isnít really a bad thing).



---
.::OVERALL::.
---
Even though I wasnít a big fan of the film, Iím sure that there will be people out there who enjoy it much more than I did. The extraís are rather nice, and the audio and video are a bit above average for those who have to decide between the Blu-Ray and DVD. I would recommend this as a purchase to those who like these types of films, and a rental to those curious. This is one Cadillac to test drive first for those weary.