Cry-Baby (1990) - Director's Cut
Genre(s): Comedy / Musical
Universal || PG13 - 92 minutes - $19.98 || July 12, 2005
Reviewer: Chris Gonzalez || Posted On: 2005-07-30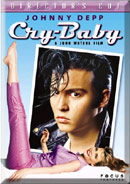 ---
---
---
.::MOVIE INFORMATION::.
---
Director: John Waters
Writer(s): John Waters (written by)
Cast: Johnny Depp, Amy Locane, Susan Tyrrell, Polly Bergen, Iggy Pop, Ricki Lake, Traci Lords


Theatrical Release Date: April 6, 1990




.::DVD INFORMATION::.
---
Supplemental Material:
Director Commentary
"It Came from Baltimore" Featurette
Deleted Scenes
Technical Information:
Number of Discs: 1
Widescreen (1.85)
English (Dolby Digital 2.0)
Subtitles: English, French, Spanish
Comment on this and other movies on the message board!
---
.::THE FILM::.
---
Cry-Baby is considered John Waters small, underrated, musical cult classic and while Iím not a big Waters fan or expert itís obvious why it is seen in this light. Itís a highly stylized satire on American youth and the 50ís mentality. From itís opening moments you know itís going to be an over-the-top, eccentric, highly active farce. It contains all of Waters charming crudeness and awkward characters.

Johnny Depp plays the title role Cry Baby, a leader of the Drapes who are the ďjuvenile delinquentsĒ of a small community. Itís fun to see the star in his youth but the one joke feel and weak story make Cry Baby feel much longer than it is, and it wears out itís welcome early on. Many themes and ideas from Waterís latest film The several musical numbers are tired and uninspired but the film doesnít do any harm and itís easy to understand why many may like it.



---
.::SPECIAL FEATURES::.
---
Feature Commentary from Director John Waters - Coming from such a character as Waters you expect a fairly entertaining track and he doesnít disappoint. Heís constantly providing fun trivia and information about the making of the film, along with adding a lot of witty remarks about the film.

ďIt Came From BaltimoreĒ Featurette - This 48-minute making of feature provides a pretty in-depth look into the making of the film. It is mostly comprised of interviews from almost everyone involved looking back on the production. Itís nothing groundbreaking, but fans should eat it up.

Deleted Scenes (7 minutes) - This is strictly for fans of the movie only. It would have neither benefited nor hindered the movie if they were kept in. No director commentary was made available for this.



---
.::AUDIO & VIDEO::.
---
Given that the film was made on a low budget the picture isnít a disaster, but for a movie made in 1990 a bigger effort could have been made. It is obviously a well shot film with vibrant colors and they arenít hindered by the transfer, but the picture seems a bit muted, very grainy, and never really fully takes advantage. Presented only in Dolby Digital 2.0 the track isnít anything worth crying over, but the musical numbers could have benefited from an expansive 5.1 playing field.



---
.::OVERALL::.
---
While I may not have been cast under Cry-Babyís spell, I know many people that would find a lot to like, so on that basis itís worth checking out, especially if youíre a fan of Waterís tamer work. Fans of the film will be happy with the disc, but not overly ecstatic.