Dedication (2007)
Genre(s): Comedy / Drama / Romance
Weinstein Company || R - 95 minutes - $19.95 || February 12, 2008
Reviewer: Brian Oliver || Posted On: 2008-02-11
---
---
---
.::MOVIE INFORMATION::.
---
Director: Justin Theroux
Writer(s): David Bromberg (written by)
Cast: Billy Crudup, Mandy Moore, Tom Wilkinson, Bob Balaban, Dianne Wiest, Bobby Cannavale, Martin Freeman


Theatrical Release Date: NA




.::DVD INFORMATION::.
---
Supplemental Material:
Technical Information:
Number of Discs: 1
Widescreen (1.78)
English (Dolby Digital 5.1)
Subtitles: English, Spanish
Comment on this and other movies on the message board!
---
.::THE FILM::.
---
If you take Adrian Monk and combine him with Billy Bob Thornton in Bad Santa, you get Henry Roth, a grumpy children's book writer with OCD. When his best (only) friend and collaborator (Wilkinson) dies, he's paired with Lucy (Moore) and after hitting more than one bump in the road, they form a strange bond.

Dedication is a bit of an odd romantic dramedy and for the most part, it does work, but one part did not work: the chemistry/attraction. Actor Justin Theroux (Miami Vice, Charlie's Angels: Full Throttle) makes his directorial debut with this wannabe indie romantic flick and in trying to not be like so many others in the genre, he changes things up, most for the better.

The problem I had with this movie is less to do with the characters or actors; instead it's the lack of chemistry between the two leads. This is not to say they don't have their moments but I look at a character like Henry Roth and wonder how in the hell Lucy could fall for him in the first place. Sure, the guy has that hard exterior shell that she manages to break through but the guy is an asshole with a capital "A". He's a likeable, but still it wasn't believable that she would be attracted to the guy after all the things he's said and done.

And although this is a pretty big issue in a 90-minute movie, it still doesn't discount the film as a whole. Billy Crudup is good as always and Mandy Moore is adorable as this quiet and ever so slightly insecure young woman (which I guess might explain why she'd fall for Henry). The two develop at least a minute amount of chemistry which carries us through just enough not to make the movie a waste of time.

You also get a fine supporting cast headlined by the esteemed Tom Wilkinson who plays a character instrumental in Henry's life and thus providing for the emotional anchor to the entire film. Few actors have the talent but Wilkinson can perform miracles in movies that fail to go beyond the status of "OK" or "average", which he does here.

Dedication is a good movie that isn't anything more than that. Billy Crudup and Tom Wilkinson are very good and the cute Mandy Moore holds her own. Unfortunately, while Moore and Crudup look fine together, their characters never quite form a believable chemistry. They have some for sure, and it is enough to make the film worth watching, but at the same time, it could've been better with an improved screenplay.

I should note that thankfully it does not conform to the romantic comedy template that is so engrained into cinema today. Modern rom-coms play it safe casting Matthew McConaughey and Kate Hudson to go along with some lame screenplay, so at least on that front, Dedication does not play by the rules...

The film was written by David Bromberg, who makes his feature film debut, and costars Bob Balaban, Dianne Wiest and Martin Freeman.



---
.::SPECIAL FEATURES::.
---
No features at all were included, not even a trailer.



---
.::AUDIO & VIDEO::.
---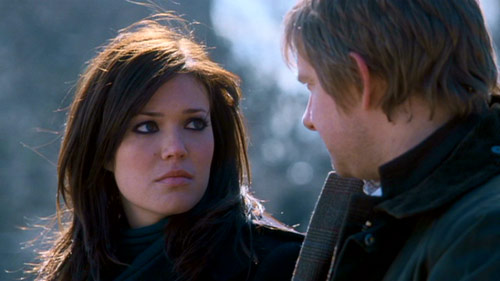 The movie is presented in anamorphic widescreen, 1.78 OAR, and utilizes a Dolby Digital 5.1 audio track. Since this is a romantic drama/comedy, standards for picture and audio are not as high for other genres.



---
.::OVERALL::.
---
I think Dedication could've been a better movie and even though I didn't quite feel the passion/chemistry between the two leads, it was good enough to make it at least watchable (Mandy Moore helps in that department). But if you're looking for a cute romantic flick for Valentine's Day (or any time), you can find better elsewhere. Fans of Billy Crudup or Tom Wilkinson might find it interesting, however.