Get Smart (2008) - Two-Disc Special Edition
Genre(s): Action / Comedy
Warner Brothers || PG13 - 110 minutes - $34.99 || November 4, 2008
Reviewer: Brian Oliver || Posted On: 2008-11-01
---
---
---
---
.::MOVIE INFORMATION::.
---
Director: Peter Segal
Writer(s): Mel Brooks & Buck Henry (characters); Tom J. Astle & Matt Ember (written by)
Cast: Steve Carell, Anne Hathaway, Dwayne Johnson, Alan Arkin, Terence Stamp, Terry Crews, David Koechner, James Caan, Patrick Warburton


Theatrical Release Date: June 20, 2008




.::DVD INFORMATION::.
---
Supplemental Material:
Comedy Optimization Mode
The Right Agent for the Job
Max in Moscow!
Language Sessions
Spy Confidential: Gag Reel
The Making of Get Smart's Bruce and Lloyd: Out of Control
Digital Copy
Technical Information:
Number of Discs: 2
Widescreen (1.85)
English (Dolby Digital 5.1), French (Dolby Digital 5.1), Spanish (Dolby Digital 5.1)
Subtitles: English, French, Spanish
Comment on this and other movies on the message board!
---
.::THE FILM::.
---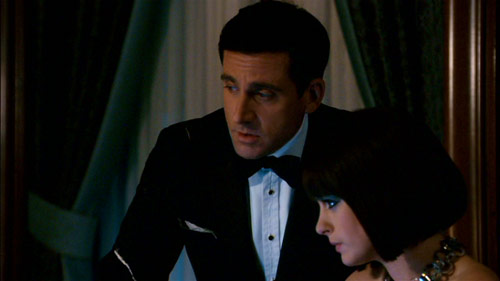 "Missed it by that much." If not for a slight drag of a first act, this is a comedy that could've been great. As it stands, it's still fun entertainment.

Hollywood's latest dip into the TV well is Get Smart, based on the hit series that aired from 1965 to 1970 and created by legendary comedian, Mel Brooks. All the elements from the series have been transferred to the big screen, mostly in the form of winks and nods for the fans while still building its own vibe to make it a distinguishing film for those unfamiliar.

Steve Carell steps into the renowned shoe-phone of Don Adams as Maxwell Smart. At the beginning of the movie, Max is a top analyst for CONTROL, a U.S. Government organization thought to have been dismantled after the Cold War, but now works (literally) underground and outside of the eyes of the American public. Max is trying for the eighth time to become a field agent but the Chief (Arkin) believes he does too good of a job as an analyst (translating terrorist chatter) to become an agent, despite scoring highly on his exam.

After CONTROL's headquarters is sabotaged, it seems an enemy is back in form. KAOS, led by Siegfried (Stamp), are in the process of inquiring nuclear weapons and planning an attack on the United States. With their resources depleted after the assault, CONTROL makes Max an agent, Agent 86. He is paired with sexy Agent 99 who, because her cover was blown, underwent facial reconstruction. She also doesn't like the idea of being paired with Max since she believes him to be an incapable agent for their new mission: infiltrate KAOS and find the nuclear weapons.

This brings me to one of the reasons I really enjoyed Get Smart. Even though the trailers make Max out to be some bumbling idiot -- along the lines of Inspector Gadget or Mr. Magoo --, he does have something to contribute. Max is a quick shot and can hit any target with precision. Of course, some of his actions are bumbling, such as trying to get the edge on Siegfried's number 2, Shtarker (Davitian), using a phone (as seen in some trailers) but he still manages to get the upper hand, and not by accident.

Now, this isn't perfect comedy, even by comedy standards. The first act lags some with the jokes (not helped by the fact one scene is partially shown to suggest that the audience turn off their cell phones; the punch line just wasn't funny the second time around) and while I didn't dread what was too follow based on that, I wasn't sure how the final 85-minutes or whatever would be. Thankfully, once Agent 99 is introduced and paired with Max, things get flowing quickly and with great success and, most important, chemistry.

Another reason the film plays so well is that Steve Carell isn't mimicking or copying Don Adams, rather he makes this role of Maxwell Smart his own and delivers those classic lines his own way instead of merely imitating someone else. Some may or may not like this, going in hoping to feel the same kind of nostalgia that the show brings. Instead, though, this Get Smart feature film pays homage to the series and still manages to stand out on its own so those not so familiar with the show can still enjoy it as a spy-spoof comedy.

Along with Carell, Anne Hathaway stands her ground and manages to probably fill the shoes of Barbara Felton more so than Carell into Adams. Yes, Hathaway does seem too young for the part – something the filmmakers' cleverly address – but in this role she's gorgeous, cunning and oh so damn sexy, qualities that are a must for the part. In the film, there's a scene in which Agent 99 and Max must go through a laser field... well, if you've seen Catherine Zeta Jones in Entrapment, you know what she does, however, Hathaway is jaw dropping in this sequence and blows the Jones' version out of the water!


Get Smart may not be the greatest comedy of the 5 or 10 years or anything, and I'm unsure how well it'll hold up, but it's pretty good and just an all around fun and entertaining flick. Both fans and the unaware can enjoy it equally. This is a movie definitely worth the price of admission.



---
.::SPECIAL FEATURES::.
---
Warner Brothers is releasing Get Smart with a "Two-Disc Special Edition", Single-Disc Edition and on Blu-ray. Unfortunately, this is one of those times the content on this 2-disc version could've easily fit on one disc...

On disc one is the feature film and something called Comedy Optimization Mode which basically is the ability to watch the movie and when an icon comes onscreen (not a little icon either, the entire movie stops for this thing to start), you click "Enter" on your remote and get to see alternate takes and some deleted scenes. My question is: why not just offer these as a separate feature? Why make us go through the entire film again to see them?

Disc Two contains: The Right Agent for the Job (10:29), a 'making-of' featurette that merely introduces the actors and how they got the part. It is also probably the better of the other featurettes as we get to see Anne Hathaway's audition tape. Next is Max in Moscow (6:20) where the filmmakers went to shoot parts of the movie rather than on some back lot. Language Lessons (3:29) is a throwaway feature where Steve Carell speaks "fluent" French and German. There is also Spy Confidential: Gag Reel (5:39) which is funny enough given how easy Carell cracks up. And finally The Making of Get Smart's Bruce and Lloyd: Out of Control (3:12), something which is a little dumb considering the movie has been out for a few months already.

There is also a digital copy for those who want to watch this on their PC or iPod.



---
.::AUDIO & VIDEO::.
---
Get Smart comes to DVD with its OAR of 1.85 and for all intent and purposes, it looks pretty good. Given it is a comedy (with major action in the climax), I didn't expect from this transfer. Colors look decent enough and black levels seemed to be alright.

The audio quality isn't top notch, but it gets the job done. WB offers up a Dolby Digital 5.1 track (also available in French and Spanish) that outputs the dialogue nice enough and conveys other elements (explosions, ambient noise, etc), but it's nothing that will wow you.



---
.::OVERALL::.
---
This "Two-Disc Special Edition" is anything but special. Sure, there are some OK features and although Warner isn't known for their propensity for double dipping like other studios (*cough* Sony *cough*), but given the box office success I can't help but think another edition will come around with Get Smart 2...