Growing Out (2008)
Genre(s): Horror
Cinema Epoch || NR - 105 minutes - $24.98 || March 10, 2009
Reviewer: Tyler Thomas || Posted On: 2009-04-14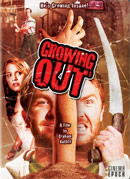 ---
---
---
---
.::MOVIE INFORMATION::.
---
Director: Graham Ratliff
Writer(s): Garett Ratliff (written by)
Cast: Michael Hampton, Ryan Sterling, Devon Iott, Chase Hemphill, Ben Bowden




.::DVD INFORMATION::.
---
Supplemental Material:
Featurette
Deleted Scenes
Still Gallery
Short Film
Trailer
Technical Information:
Number of Discs: 1
Widescreen (1.77)
English (Dolby Digital 2.0)
Subtitles: None
Comment on this and other movies on the message board!
---
.::THE FILM::.
---
Tom (Michael Hampton) is your typical guy trying to make it big in the music world. He tries his hardest at a local coffee shop playing his guitar even though heís terrible at it trying to entertain the crowd on a regular basis. Heís basically booed off of stage and punched in the crotch by an audience member and walks to the back of the shop to see the owner of the establishment. The manager fires him on the spot, and with nothing else to do and nowhere to go, Tom heads out into the real world.

He passes by a house that says free room and board, and approaches the man who introduces himself as Vernon (Ben Bowden). Vernon claims that itís true, the sign is correct but thereís a condition that Tom has to follow. Well, there are a few of them and fairly stupid to say the least, but it involves making sure the house is always clean and to feed some woman in the house a sandwich every day. This is one of those ďdark comedyĒ films that I guess are supposed to be funny in a dark way, but I didnít get any of the jokes the entire runtime.

While playing his guitar, Philip (Chase Hemphill) who lives nearby introduces himself to Tom. The two converses a bit and he lets him know that he lives outside in the shed behind the house but during the conversation Tom spots a spider on the wall. Philip says not to worry about it and just to make sure the house is clean. The conversation lasts way too long and isnít funny in the slightest, in case you havenít realized it yet from my rather mundane review so far. Iím trying to make this somewhat plausible and entertaining, so just grin and bear with me.

Tom decides to do his chores for the day and takes the sandwich up to the old lady heís supposed to help out and leaves it at her doorstep. He heads to the basement to put away some of his records and stumbles upon something eerie; no itís not the end of the film, although I wish it was, instead he finds a hand. Yes, a hand with a bit of arm showing, how creepy is that? He places a tin can over the hand and stumbles out of the room. He leaves the resident to spot Veronica (Devon Iott) playing her guitar while sitting in a tree. I wonít talk about the rest of the movie, mainly because it goes from stupid to downright ridiculous.

This is just an awful movie, thereís no easy way of putting it. The direction it goes throughout is just insane. The hand it turns out is really a person, buried in the ground, and the jokes that should be there and funny are void. There isnít any reason what so ever to even consider watching this. Iím in a good mood today, hence why it received half a star, since Iím a supporter of the whole ďindieĒ movie scene, but come on, give us a movie with actual quality next time.



---
.::SPECIAL FEATURES::.
---
Behind the Scenes (5 minutes): Comprised of multiple things, such as the cast and crew talking about the screenplay among other great topics. There isnít much to say about this, but thankfully itís mercifully short and less painful than the film itself.

Deleted Scenes (2 minutes): Three scenes that didnít make it into the movie, mainly because they donít really add anything to the already low value of the flick.

Short Film (8 minutes): I guess this is supposed to be funny and play off of the film, but it accomplishes neither of those things.

Finally, the filmís trailer and a still gallery can be seen for those interested.



---
.::AUDIO & VIDEO::.
---
Grain is apparent is nearly every scene in the movie and colors are also dull and void of any distinction that causes them to be different from other parts of the flick. Flesh tones also appear duller as the movie progresses, and there are also major issues with contrast that are apparent right from the get-go. Many of the filmís scenes appeared darker and then brighter when it should have been a rather mundane look, whether or not it was the studios intention to make it look this bad weíll never know. This is a giant mess of a transfer.

Itís a Dolby Digital 2.0 track. What do you honestly expect? Dialogue levels are low, inconsistent, and among other things, this is a freaking awful track. I could barely hear the characters and for a horror film the ďgotchaĒ noises just donít work. Its 2009 people, why are you including a 2.0 track? This track is barely passable, but in the long scheme of things not hearing the dialogue is actually a plus.



---
.::OVERALL::.
---
How do movies like this get released? This is one of the stupidest films Iíve ever seen, and a viewing of this may actually cause you to lose precious brain cells. I can think of a million things I would have rather done than waste my time with this one. Go grow your own plants, itís more entertaining, trust me.