Halloween (2007) - 2-Disc Unrated Collector's Edition [Blu-ray]
Genre(s): Horror
Dimension || Unrated - 121 minutes - $34.95 || October 21, 2008
Reviewer: Brad Lowenberg || Posted On: 2008-10-22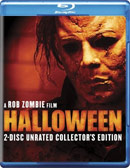 ---
---
---
---
---
.::MOVIE INFORMATION::.
---
Director: Rob Zombie
Writer(s): Rob Zombie (screenplay); John Carpenter and Debra Hill (1978 screenplay)
Cast: Malcolm McDowell, Sheri Moon Zombie, Tyler Mane, Scout Taylor-Compton, Brad Dourif, Danielle Harris, William Forsythe, Daeg Faerch, Hanna Hall, Kristina Klebe, Danny Trejo, Skyler Gisondo, Dee Wallace


Theatrical Release Date: August 31, 2007




.::DVD INFORMATION::.
---
Supplemental Material:
Director's Commentary
BD-Live (BD Exclusive)
Michael Lives (Documentary)
Deleted Scenes
Alternate Ending
Bloopers
The Many Masks of Michael Myers
Re-Imagining 'Halloween'
Meet the Cast
Casting Sessions
Scout Taylor-Compton Screen Test
Theatrical Trailer
Technical Information:
Number of Discs: 2
Widescreen (2.35)
English (Dolby TrueHD 5.1)
Subtitles: NA
Comment on this and other movies on the message board!
---
.::THE FILM::.
---
When Rob Zombie announced he was remaking the original Halloween the Internet was set ablaze with hate. How could Zombie remake a film that is often in most horror fans Top 5 and come out being successful with it? Well, as a huge fan of Carpenter's classic film I was not as upset like some other fans (since I did like the remake of Dawn of the Dead which is my favorite horror flick) and after now seeing it again on Blu-ray in the first time in over a year I still think it's a great horror flick that captures most of the magic that made the original enjoyable for me.

Unless you have been living under a rock for many years you probably already know the plot to one of the greatest horror films of all time. Zombieís version, however, changes things up a bit and we begin the story with a very young Michael Myers who is having some issues in school and at home. At school he is often picked on by others because his mother (Sheri Moon Zombie) is a stripper at the local bar while at home his entire family (with the exception of his mother and infant sister) calls him names and treats him like garbage.

One day, Halloween to be exact, he takes his revenge on a school bully that has been tormenting him. After brutally beating the child he goes home to find his mother has to work and he is left in the care of his older sister and drunken step-father. When his sister refuses to take him trick-or-treating something in Michael snaps and he massacres everyone in the house - with the exception of his younger sister Boo.

After the grizzly attack Michael is sent away to a sanitarium where he is under the care of Dr. Loomis (Malcolm McDowell) and slowly the human side of him fades away until he becomes a quite, middle-aged man. One night (which just so happens to be Halloween), Michael breaks out and makes a run for Haddonfield, IL to visit his only living relative - a now older Laurie Strode.

Now, I understand some people may not fully agree with my review on the film. Looking at other reviews for Zombie's version it appears either people really loathed it or loved it - there seems to be no middle ground. I am part of the 'loved it' crowd - simply for the fact that Zombie decided to take a different approach then the original - we now have a reason to why Michael Myers is the way he is rather then some young kid who just decided to kill his older sister one night for absolutely no reason.

One of my favorite things about the film is that instead of Zombie taking his typical route of making the film extremely graphic (The Devil Rejects) he kept much of the killing fairly tame (for his standards) and brought a new life to the characters. While Annie was rather boring in the original film (along with Lynda), Danielle Harris brings a much needed personality to the character that I actually care if she survives or not.

So with that in mind, let me get to what I didn't care for. Zombie's version runs just shy of 2 hours long and the first 45 minutes or so deals with shaping young Myer's to become the murder he turns out to be. While I thought it was a real treat to see how badly Michael was treated (therefore giving him somewhat of a reason for doing what he did as a child), they spent a little bit too much time doing so thereby making the second half of the film a bit too short. That's not particular a bad thing, but the pacing of the film tends to be a bit too slow for the first hour and picks up dramatically in the last.



---
.::SPECIAL FEATURES::.
---
Disc 1 (50GB):

Commentary with Rob Zombie - Now, I'm a fan of his films so it was a real treat to listen to Zombie - all alone - discuss the film at great length. At times he becomes a bit to egotistical regarding the film but I still enjoyed his input for making the decisions he made.

BD-Live (Profile 2.0) - At this time the service is not available. But from what I gather its simply the ability to download some trailers.

Deleted Scenes (22 Minutes) - A rather delicious helping of deleted scenes help flesh out the movie a bit more (as well as a changing a kill) but all in all they don't amount to much.

Alternate Ending (4 Minutes) - I won't spoil it for you...but I was not that impressed with this one. I prefer the one we actually get to see as it does possibly setup a sequel and brings the film to a much more satisfying conclusion.

Re-Imagining Halloween (20 Minutes) - A very generic "making of" that now, after having the 4+ hour documentary makes this feature rather useless.

Meet the Cast (19 Minutes) - An interesting, but typical, look at every cast member discussing the film and how great it was working with everyone.

Also included is a Blooper Reel (10 Minutes), "The Many Masks" (6 Minutes), a very long look at some Casting Tapes (30 Minutes) and a theatrical trailer.

Disc 2 (25GB):

Michael Lives (4+ Hours) - Ok, now this is how to do a documentary. Did you see that run time? This feature captures Zombie and numerous other cast and crew members over the course of shooting of the film discussing just about everything you would possibly want to know (and not know) about the film. If you enjoyed the film be sure to watch this...though I would do it in parts as it does becoming a bit boring after a while.



---
.::AUDIO & VIDEO::.
---
Halloween arrives on Blu-ray in 2.40:1 (AVC/MPEG4) on a 50GB disc. Overall I was really that impressed with the quality here as colors were fairly vibrant (when allowed to be) and blacks for very dark. I did compare it to my DVD version and while the Blu-ray is superior itís still not a huge improvement.

Genius/Weinstein has included an English Dolby TrueHD track for this release. Audio was a bit better then picture quality with several scenes standing out (particularly the end) and the soundtrack for the film sounds amazing in lossless. I once again compared it to my DVD version and instantly found dialog to be a lot cleaner and was picking up other various noises I had not heard before.



---
.::OVERALL::.
---
Zombie's Halloween is different - very different - but to me, itís a good kind of different. We finally get a back story as to why Michael is the way he is and he becomes less of a "superhero" type killer and more of someone who has been wronged and seeks revenge. The Blu-ray incorporates fairly nice Picture and Audio Quality as well as some incredible special features including a brand new 4 hour documentary. This film comes highly recommended.