Hancock (2008) - Unrated Special Edition [Blu-ray]
Genre(s): Action / Adventure / Drama
Sony || Unrated - 102 minutes - $39.95 || November 25, 2008
Reviewer: Brad Lowenberg || Posted On: 2008-11-05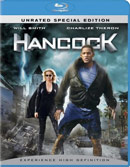 ---
---
---
---
---
.::MOVIE INFORMATION::.
---
Director: Peter Berg
Writer(s): Vincent Ngo and Vince Gilligan (written by)
Cast: Will Smith, Charlize Theron, Jason Bateman


Theatrical Release Date: July 2, 2008




.::DVD INFORMATION::.
---
Supplemental Material:
On-Set Visual Diary PiP Track
BD-Live
7 Featurettes
Digital Copy
Technical Information:
Number of Discs: 2
Widescreen (2.40)
English (Dolby TrueHD 5.1), French (Dolby TrueHD 5.1), Spanish (Dolby Digital 5.1), Portuguese (Dolby Digital 5.1), Thai (Dolby Digital 5.1)
Subtitles: English, English SDH, Spanish, French, Portuguese, Chinese, Korean, Thai, Indonesian
Comment on this and other movies on the message board!
---
.::THE FILM::.
---
Will Smith plays Hancock -- a drunk, inconsiderate superhero that cares about no one but himself. While he seems to enjoy being a superhero, he does so at a cost - to the taxpayers in Los Angeles. Instead of just catching the criminals and depositing them in prison he chooses to do things his way which includes destroyed streets, billboards and buildings. This act of defiance puts a warrant out for Hancock... but no worries for Hancock; he has himself a great PR guy. In enters Ray (Jason Batman) - a good hearted man who wants to help Hancock out because he saved his life.

After dinner at his house with his lovely wife Angel (Charlize Theron), Ray convinces Hancock to go to jail to pay his debt to the community. Ray believes that with Hancock away in jail that crime will rise and the city will be begging for Hancock to come back to them (so people getting killed and mugged is a good thing, all to show them a lesson?). After a few weeks his dream comes true - the Chief of Police calls for Hancock to help end a bank robbery and he is finally able to redeem himself in the eyes of the people. But wait... there is another mystery at hand. Hancock apparently has an attraction to a certain person and he does not know why but maybe that other person does?

Hancock is based off the script "Tonight, He Comes" (which is a really bad name considering the current film is titled Hancock - talk about a double entendre), where it moved from studio to studio until Sony finally picked it up. Originally the plot was much darker, but it was changed to be a bit more light-heartened for the PG-13 standards.

Due to some of the probable changes the film starts off great - the first act is really great and hits all the right buttons. Then it decides to change pace and throw Hancock in prison... OK, well this won't be too long, right? Nope, he's there for some playing basketball and goofing around. Then the third act hits and we are hit with a doozy - apparently another character in the film knows Hancock from his past! And from that point on the film crumbles into a mess leaving us with a very unsatisfied ending.

Will Smith does an admirable job in the film - but itís a bit to reminiscent of most of his roles where he tends to be playing the same smug type of character. Jason Bateman is the only character in the film I really liked who plays a very believable PR rep who simply wants to help Hancock out all while taking none of the credit (see any of his meetings trying to pitch his All Heart campaign). The only other main character left is Charlize Theron who, well, does a decent job with the script she's given. I can't blame her that she had to read some poorly written dialog.

The only real positive thing I can say about Hancock is that I enjoyed it more by viewing it a second time. Not that I know the big "secret" ahead of time I am able to piece together more of the plot and why certain characters have a certain attitude towards another. Does this make the movie better? No, not really. I won't even talk about one of the worst DVD/Blu-ray cover arts I have seen in the past few years. Did they think everyone in America has already seen the film thus no holding back on spoilers? Paramount did the same with the recent Iron Man release. Stop it! Go Se7en on us and don't even let us know a certain actor is even in the film to the very end!



---
.::SPECIAL FEATURES::.
---
All Special Features are presented in HD.

On-Set Visual Diary PiP Track (Profile 1.1/2.0) - Another PiP track that seems to incorporate some of whatís available in the featurettes below. I only kept this on for a short while...but found there was very little worth watching. Blu-ray Exclusive

BD-Live - While not advertised on the case, a BD-Live option is available (though unavailable to me at this time). Unknown if there will be any features here or if will simply play the same as before - trailers for future Sony BD/Movie titles.

Featurettes (85 Minutes):
- Suiting Up
- Home Life
- Superhumans: The Making of Hancock
- Seeing the Future
- Building a Better Home
- Bumps and Bruises
- Mere Mortals: Behind the scenes with Dirty Pete

Each featurette takes us behind the scenes giving us more details on some of the makeup, costumes, pre-visual effects and some general information on the film. While most of it was pretty enjoyable, it tends to repeat itself several times (in different featurettes). If you enjoyed the film you'll get a kick out of these - all in HD!

While not really a special feature, the disc contains both the theatrical and unrated cut of the film. The only difference I noticed was the sex scene in the first fifteen minutes.

Digital Copy Ė Wonderful, this one only works with PSPs. No iPods or Zunes allowed.



---
.::AUDIO & VIDEO::.
---
Hancock is presented in 2.40:1 (AVC/MPEG-4) on a 50GB Disc. Overall a very nice transfer that, dare I say, looks much better then when I saw it in theaters. Colors are very vibrant and blacks very dark. Considering the movie is so new you won't have to worry about any marks or dirt as the transfer is free from them.

Sony has included an English (and French), Dolby 5.1 TrueHD track as well as standard 5.1 tracks in Spanish, Portuguese and Thai. While a definite step down from the Picture Quality the TrueHD track still sounds pretty good - especially that one part towards the end of the film with another certain character. The front and rear speakers are both very active and dialog is crisp.



---
.::OVERALL::.
---
Hancock is a film I would recommend you rent first before you buy. Itís rather short (92 minutes for theatrical and 102 minutes for the unrated cut) and his very little replay value. The only saving grace is the excellent Picture Quality and the Special Features being in HD.