The Illusionist (2006)
Genre(s): Drama / Fantasy / Mystery / Romance
Fox || PG13 - 109 minutes - $29.99 || January 9, 2007
Reviewer: Brian Oliver || Posted On: 2007-01-14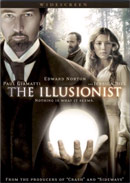 ---
---
---
.::MOVIE INFORMATION::.
---
Director: Neil Burger
Writer(s): Steven Millhouser (short story), Neil Burger (screenplay)
Cast: Edward Norton, Paul Giamatti, Jessica Biel, Rufus Sewell


Theatrical Release Date: Septmber 1, 2006




.::DVD INFORMATION::.
---
Supplemental Material:
Director Commentary
The Making of The Illusionist
Jessica Biel on The Illusionist
Theatrical Trailer
Technical Information:
Number of Discs: 1
Widescreen (1.78)
English (Dolby Digital 5.1)
Subtitles: English, Spanish
Comment on this and other movies on the message board!
---
.::THE FILM::.
---
Plot: Set in the early 1900s Vienna, the film centers on illusionist extraordinaire Eisenheim (Edward Norton), who falls for an aristocrat (Jessica Biel) well above his social standing. When she becomes engaged to Crown Prince Leopold (Rufus Sewell), the master magician employs his powers to win her love. His daring scheme creates tumult within the monarchy and ignites the suspicion of Chief Inspector Uhl (Paul Giamatti).

ďPerhaps thereís truth in this illusion.Ē

I wonít go into detail about the plot outside of the above synopsis, but I will say although it doesnít rise to the twist of The Sixth Sense (what can?) but The Illusionist is one of the best movies of 2006.

Writer/director Neil Berger sets up great atmosphere from the beginning showing Eisenheim in a packed theater, sitting on a chair, channeling something. Berger utilizes a golden glow in each scene mixed with rich and beautiful sets and great performances from Norton, Giamatti and Sewell (not to say Biel wasnít good, but her role was smaller). Early on, Berger uses a hand-cranked (like) style for Eisenheimís childhood days, giving it an interesting flair that fits right in with the rest of the movie. Some might find it overly stylized but I feel it fits in with the story and gives it an extra depth that helps the audience along to the conclusion.

As a sophomore effort, Berger is off to an impressive start to his career and itíll be interesting to see where he goes next. He may not have the finesse or refinement of young directors like Christopher Nolan, however I am intrigued to see what heíll do next.

Edward Norton has often been called a chameleon and after 10 years, Norton has proven to be one of the best actors of this generation; the new Robert De Niro or Al Pacino if you will. Norton consistently gives amazing performances even in some of his less artsy films like The Score or The Italian Job. Here, he gives an unassuming performance, one that really isnít memorable per se, but still one that is better than anything 90% of the acting community could do. Eisenheim isnít all that well fleshed out as a character, but because of its Norton, he pulls in the audience just as a real audience for the time would watching the magic.

In their supporting roles, Paul Giamatti (in a role different what heís done of late), Jessica Biel and Rufus Sewell (despite being typecast as a raving, violent villain), all feed on Nortonís charisma and they equally pull their weight in roles that, again, arenít as three-dimensional as I like from stories. Nevertheless, given the story, the illusion or magic of this script, all is forgivable for the final payoff.

If thereís one flaw, itís a minor one with the score. Veteran composer Philip Glassís musical cues are fine and work with the story, but from opening credits to the end, I had the feeling Iíve heard before. Nothing about it is original nor that great. That said, this is a minor gripe from someone who enjoys (and buys) scores.

The Illusionist isnít one of those great movies on par with The Godfather or even Lost in Translation (in my book), but it still has that finale that makes it all worthwhile. It doesnít stand alongside Sixth Sense (and probably wonít carry that kind of cultural weight), yet I canít help to have fallen in love with this movie.



---
.::SPECIAL FEATURES::.
---
Unfortunately, the DVD isnít packed with much material. I know this is an independent release, I think some more subtenant extras couldíve been included. What about a featurette on magic or showing Nortonís preparation and learning magic from the consultants (including Ricky Jay)? How about the deleted scenes director Berger mentions in his commentary.

WARNING: POSSIBLE MINOR SPOILERS

Writer/Director Commentary - Berger sits down for the duration and provides minor trivia on making the movie and talks a bit about the magic of the day and how it was done, but he reveals little else about the magic contained in the film (although what he suggests doesnít make sense in certain scenes). He conjectures how it could have possible been done but makes no definitive statements. In fact, for the end he says things that not only make no sense, but also kind of take away from the movie. He says that things that happened were in the perspective of one character yet if it doesnít fit, then its in the perspective of the audience.

The Making of The Illusionist (3:57) - Basic behind-the-scenes featurette with sound bites from the cast and crew explaining what the movie is about and the world of magic.

Jessica Biel on The Illusionist (1:28) - They have taken Bielís sound bits from the previous featurette and cut them together (with clips from the movie) and made it into one (short) featurette.

Thereís also a theatrical trailer and trailers for other films.



---
.::AUDIO & VIDEO::.
---
The only sound option is an English Dolby Digital 5.1 mix that is more than suitable for this picture. Glassís score, the dialogue, everything comes through the speakers just fine.

The film is presented in anamorphic widescreen, 1.78 OAR, and as I already mentioned in the movie review portion, Bergerís rich style looks wonderful on the small screen. There arenít really any true colors, itís mainly made up of tans, browns and that sort of range of the color spectrum.



---
.::OVERALL::.
---
Iím disappointed in the DVD itself because I loved the movie so much. Having said that, the reason one should own a DVD is because of the film since although some special features may be great, a lot of them donít hold much repeat value. However, The Illusionist is one film that I could easily watch again.