The Invisible (2007)
Genre(s): Drama / Fantasy / Mystery / Thriller
Hollywood Pictures || PG13 - 102 minutes - $29.99 || October 16, 2007
Reviewer: Brian Oliver || Posted On: 2007-10-18
---
---
---
.::MOVIE INFORMATION::.
---
Director: David S. Goyer
Writer(s): Mats Wahl (novel); Mick Davis and Christine Roum (screenplay)
Cast: Justin Chatwin, Margarita Levieva, Marcia Gay Harden, Chris Marquette, Alex O'Loughlin, Callum Keith Rennie, Michelle Harrison


Theatrical Release Date: April 27, 2007




.::DVD INFORMATION::.
---
Supplemental Material:
Director & Co-Writer Commentary
Co-Writer Commentary
Deleted Scenes
2 Music Videos
Technical Information:
Number of Discs: 1
Widescreen (2.35)
English (Dolby Digital 5.1), French (Dolby Digital 5.1), Spanish (Dolby Digital 5.1)
Subtitles: English, French, Spanish
Comment on this and other movies on the message board!
---
.::THE FILM::.
---
Plot Outline (from DVD back cover): Nick Powell is a handsome young writer with a future as bright as he is. Then one tragic night he's brutally attacked and left for dead – but he's really not. He's trapped in a ghostly limbo where no one can see or hear him except Annie, the one person who might be able to save him. They must work quickly together to solve the mystery of his murder before it is too late and Nick's chance to live again is lost forever.

The Invisible is a remake of a Swedish film of the same name which in itself is based upon a novel. Having never seen the original, I cannot tell you if it's better, but it wouldn't surprise me if it's along the same lines as The Vanishing with the original being far more superior. As a fanboy of Batman Begins, I follow David Goyer's career fairly closely and while he has some good writing talent if the first two Blade movies and Begins are any indication, but his direction has more to be desired after, at best, an average outing with Blade: Trinity.

His latest has some things going for it between an interesting plot to a lead with Justin Chatwin, an actor who I think can follow the path of others in his class like Ryan Gosling (who was first noticed in the mundane Murder by Numbers). However, everything else just didn't work like a performance from Oscar winner Marcia Gay Harden to the entire story.

As I watched The Invisible, the biggest flaw is with the pacing. The film meanders along with little or no force and fails to develop any kind of emotional core that one can grasp upon as we walk with Chatwin and his push to find his body before it's too late (which in itself is absurd the way some things unfold). Ironically enough, what the movie lacks is a soul...

At times the dialogue is pretty laughable, not funny but more scoffing (in a stretch of 10-minutes, the only key piece of dialogue is "Hello"). And as I mentioned before, there's no emotion behind these characters. Perhaps this is the actors but even a key scene with Marcia Gay Harden as she breaks down at her son's disappearance; it honestly felt over-the-top rather than anything real. Harden may not be a Hollywood starlet, but she has talent so I can only think that maybe Goyer's direction might be to blame.

My biggest issue with the movie as a whole unfortunately comes from the marketing. Indeed, the marketing department is there to sell a film, make it look as good as possible with the footage at hand, but The Invisible was marketed as a mystery-thriller who-dunnit where a guy who was killed must find, as a ghost, his killer(s). Of course, this harkens back to Ghost, but I wouldn't have minded an updated version. Instead, we get a movie about teen angst set against the appropriate teen angst music which leads to a dark and emotionless movie.

I wish I could say this movie has many redeeming qualities but it doesn't really (save perhaps by one scene with Marcia Gay Harden). Although this isn't a mess like Blade: Trinity, it does lack that extra level that it needed to be a solid flick. Instead, it that rambles along with little direction and outside of some good, though not great, performances, The Invisible is a movie destined to sit on shelves and eventually on the sales racks at Wal-Mart.



---
.::SPECIAL FEATURES::.
---
Director & Co-Writer Commentary – Fairly standard track from a commentator I normally enjoy listening to in Goyer. He is joined by Co-writer Christine Roum and both convey different little tid-bits about the production (a lot about the weather in Vancouver) and comparisons with the film's Swedish counterpart. All in all, it is an OK track but probably more in line for those who enjoy technical commentaries.

Co-Writer Commentary – The second half of the writing team, Mick Davis, gets a track all to himself. This one is much slower and sticks, rightfully so, to the screenplay, though Davis's comments are more play-by-play than Goyer/Roum.

Deleted Scenes (13:44) – 11 scenes are included, most notable one prominently shown in the trailers. An optional commentary from Goyer and Roum is also included as it's explained why scenes were left out of the final product.

Two music videos are also included.



---
.::AUDIO & VIDEO::.
---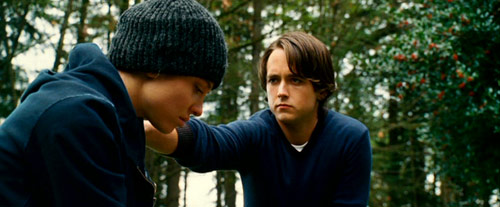 The film is presented in anamorphic widescreen, 2.35 OAR. This is a darker looking movie so I paid attention to black levels and other colors throughout, and from what I could tell, this looks like a solid transfer.

The Dolby Digital 5.1 mix is fine with voices coming dominantly from the center channel and Goyer's teen angst soundtrack utilizing the others (with the occasional ambient noises getting some attention). Nothing amazing here, but given this is more of a drama, as long as there's nothing obviously wrong, that's all I care about.



---
.::OVERALL::.
---
I'm sure somewhere in this 95-minute runtime there was a great movie. The dramatic elements were there but somewhere in the execution by Goyer, something failed. It could have very well been its lead, Justin "I'm That Punk Kid from War of the Worlds" Chatwin, the direction or the writing. Hell, maybe it was all three, point is, The Invisible just didn't work even at the basic level. It has its limited moments, but not nearly enough to salvage its faults.

Since the film didn't exactly set the box office on fire, the fact Hollywood Pictures included anything beyond previews for their titles is amazing. The two commentaries are fine and it's nice to see deleted footage used in the trailers but I cannot recommend this movie beyond a rental.