Last Action Hero (1993) [Blu-ray]
Genre(s): Action / Comedy / Fantasy
Sony || PG13 - 131 minutes - $24.95 || January 12, 2010
Reviewer: Brian Oliver || Posted On: 2010-01-13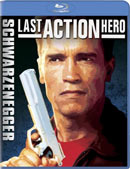 ---
---
---
---
---
.::MOVIE INFORMATION::.
---
Director: John McTiernan
Writer(s): Zak Penn & Adam Leff (story), Shane Black & David Arnott (screenplay)
Cast: Arnold Schwarzenegger, F. Murray Abraham, Austin O'Brien, Tom Noonan, Anthony Quinn, Mercedes Ruhl




.::DVD INFORMATION::.
---
Supplemental Material:
Technical Information:
Number of Discs: 1
Widescreen (2.40)
English (DTS-HD MA 5.1), French (DTS-HD MA 5.1), Portuguese (DTS-HD MA 5.1), Spanish (Dolby Digital 5.1)
Subtitles: English, English SDH, French, Spanish, Portuguese
Comment on this and other movies on the message board!
---
.::THE FILM::.
---
In 1993 the $50 million action-adventure known as Last Action Hero starring ďtheĒ action hero Arnold Schwarzenegger opened with a paltry $15 million taking #2 against Jurassic Park in its second weekend. Although the movie would go on as a fairly big bomb for Columbia Pictures, especially back then, but it would seem over the years to have redeemed itself somewhat. No, itís not one of Schwarzeneggerís better mid-level action flicks, but it certainly had imagination... and unfortunately a bad child actor in a big role.

Last Action Hero stars Ahnold as himself as Jack Slater and then as Jack Slater himself. Get all that? The basic premise is a delinquent boy named Danny (AUTIN OíBRIEN) who skips class to watch "Jack Slater 3" because, well, heís a huge fan of the action series. His mother (MERCEDES RUHLS) works at night and when the cooky old man who runs the theater Danny frequents offers a sneak peek at the upcoming "Jack Slater IV", well it was an opportunity too hard to pass up.

Now, let me digress for a second. I know this is a movie and all, but what happens next was perplexing. This sneak peek is at midnight which means going out in the grimy streets of New York City and upon opening his front door; a junkie breaks in and steals what crap they have. Well, next we see him at the police station and after notifying his mother about the incident, the police merely tell him to go straight home. Again, weíre talking about a not-so-nice part of town. I know there are streetwise kids but Danny ainít one of them...

In any case, we know Danny isnít going to go straight home in spite of what had transpired and instead goes to the theater to catch this all important sneak peek. The cooky old projectionist tells Danny that he needs a ticket to enter and offers him a golden one that was given to him by Houdini. He explains that the ticket is supposed to have magical powers but he was too chicken to ever try it out, so now he is giving to Danny.

When "Jack Slater IV" Ė a movie about Slater seeking vengeance on those who killed his favorite second cousin Ė begins, young Danny loves it. And when, for some reason, the golden ticket activates and a stick of dynamite jumps off the screen, somehow Danny is shoved inside the screen and inside the movie itself! Now Danny serves the comedic sidekick helping Jack Slater find the bad guys while also trying to figure out how to get back home.

Directed by John McTiernan, who helmed one of the best action movies ever made in Die Hard, does an effective job with what he had. Obviously the action sequences are going to over-the-top since the movie takes on the genre. Shane Black, most famous for Lethal Weapon and later Kiss Kiss Bang Bang, serves as the co-writer. I only mention McTiernan and Black to note that the elements were there. You have a talented writer (also including Zak Penn co-writer of The Incredible Hulk and X2) and effective director with a superstar in the lead. Its unfortunate it didnít all come together as it should have.

The aforementioned superstar, Arnold Schwarzenegger, is his usual charming self hamming it big time and really making fun of himself with the corny lines we normally hear from him in just about every action flick he does. And I would be remiss to not also mention Bridget Wilson making her debut as Jack Slaterís daughter. Iím not saying she turned in a star-making performance or anything, but for a debut film, she wasnít half bad.

Personally, I never really liked Last Action Hero. Throughout the years Iíve caught it on TV and even probably rented it at one time, it just never really grabbed me. I liked that Ahnold was a good sport and poked fun at himself and I liked the spoof aspects of pointing out the ridiculousness that often perpetrates the over-the-top action genre; other than that however, it still remains as an enjoyable but ultimately forgettable movie.



---
.::SPECIAL FEATURES::.
---
Like the DVD, there arenít much in the way of features unfortunately. I canít believe that there arenít any old featurettes... Anyway, we do get some previews as well as Sonyís movieIQ (** Blu-ray Exclusive **) where you can check out cast and crew profiles and trivia.



---
.::AUDIO & VIDEO::.
---
All I can say about this transfer is: inconsistent. When the movie began, I was fairly impressed. The picture was nice and clean, free of any dust or scratches; it wasnít excessively noisy or overly crisp as if it were put through the cleaners. Detail levels were quite good and colors seemed to be well balanced. Yet then there were other scenes that the detail levels werenít as clear and the noise and grain were very noticeable.

The audio fared much better. Sony has given this an expansive 5.1 DTS-HD Master Audio which gets a good workout thanks to the abundant amount of explosions and action sequences throughout the film; and thatís not to mention the loud score. Dialogue levels were pretty good and the subwoofer did click on several times.



---
.::OVERALL::.
---
While I never was a fan of Last Action Hero, I can see the charm that others have found in it over the 17 years since its release. The Blu-ray doesnít have a whole lot to offer as there still isnít much in the way of features and the video quality isnít the greatest but still better than the DVD release as the audio was pretty good.