Licence to Kill (1989) [Blu-ray]
Genre(s): Action / Adventure / Thriller
MGM || PG13 - 133 minutes - $34.98 || May 12, 2009
Reviewer: Brian Oliver || Posted On: 2009-06-09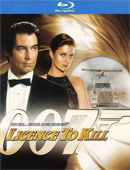 ---
---
---
---
---
.::MOVIE INFORMATION::.
---
Director: John Glen
Writer(s): Ian Fleming (characters); Michael G. Wilson and Richard Maibaum (written by)
Cast: James Bond, Carey Lowell, Robert Davi


Theatrical Release Date: July 14, 1989




.::DVD INFORMATION::.
---
Supplemental Material:
2 Feature Commentaries
5 Featurettes
Deleted Scenes
Vignettes
Trailers
Technical Information:
Number of Discs: 1
Widescreen (2.35)
English (DTS-HD MA 5.1), English (Dolby Surround), Spanish (Dolby Digital 5.1), French (Dolby Digital 5.1)
Subtitles: English SDH, Spanish, Cantonese, Korean, Mandarin Chinese
Comment on this and other movies on the message board!
---
.::THE FILM::.
---
The mid to late 80s was a dark and cynical time. You had the release of Frank Miller's "The Dark Knight Returns" graphic novel (1986), Tim Burton's dark Batman feature film (1989) and even the great buddy-comedy Lethal Weapon (1987) had very dark undertones. And then there was Bond, James Bond. With 1987's The Living Daylights, the character took a nearly 180 degree turn from the bumbling Roger Moore days casting Timothy Dalton as a darker Agent 007.

Licence to Kill was not only the first PG-13 James Bond (to be fair, the rating was still fairly new) but Bond turns from the stand-up comic that Roger Moore presented for the better of a decade to a lean, very mean, revenge machine. While Licence to Kill isn't the greatest James Bond adventure, it was the step in the right direction moving away from numerous and lame one-liners and showcasing a James Bond that actually kicks some ass and one with a mean streak in him (he sets a man on fire!).

However, even during a cynical time, this James Bond was too dark for some audiences and with diminishing returns at the box office (LTK made $156m worldwide where it took a tumble in the States with only $34.7m), producers felt the need to take the series into a lighter direction with the casting of Pierce Brosnan in GoldenEye six years later.

In any case, Licence to Kill finds James Bond 007 (Timothy Dalton) going on a revenge spree after good friend Felix Leiter (David Hedison) is severely injured by drug lord Franz Sanchez (Robert Davi). Bond travels to South America to hunt Sanchez but beforehand allies with a CIA operative named Pam Bouvier (Carey Lowell) who has knowledge of Sanchez and his organization. Together, and with the help of good old Q (Desmond Llewelyn), take on the drug underworld.

I actually enjoyed the movie for its darker tone and even though it's not a homerun of a film, it has an equal amount of fun and adventure with a good, if not slightly rushed, story and a bad guy in Robert Davi who, while not that memorable compared to others throughout the franchise's history, is still an effective foe for this new world Bond.

Licence to Kill was directed by five-time Bond-er John Glen (also served as editor on three others) and features a younger Benicio Del Toro in only his second feature film. As I said, the movie may not be a great movie but it's certainly enjoyable and along with The Living Daylights, a nice change-up to Roger Moore's campy era for 007.



---
.::SPECIAL FEATURES::.
---
MI6 Commentary features Producer Michael G. Wilson and Members of the Crew and another with Director John Glen and Members of the Cast. Both have a "host" and audio sound bites intertwined throughout the movie including Benicio Del Toro and others. Personally, I'm not a fan of these commentaries as I'd prefer a scene specific track with multiples in the same room together.

DECLASSIFIED: MI6 VAULT begins with some deleted scenes (10:32) and optional intros from director John Glen; Bond '89 (11:43) are on-set interviews with the cast and crew; On Set with John Glen (9:28) features behind-the-scenes footage with Glen providing some commentary about what we're watching; On Location with Peter Lamont, like the "On Set" featurette, has the production designer commenting over some more behind-the-scenes footage from 1989; and Ground Check with Corky Fornoff (4:45) is an original featurette filmed on the set covering the plane scenes.

007 MISSION CONTROL features clips from various parts of the movie with 007, the Women (Pam Bouvier, Lupe Lamora), Allies (M, Q, Felix Leiter), Villains (Franz Sanchez, Dario, Professor Joe Butcher), Mission Combat Manual, Q Branch and Exotic Locations (3:41). This feature has been included on all of the Bond DVDs (and BDs), but not sure what the point is, outside of the last one which shows us the various locations the movie was shot at.

MISSION DOSSIER has a few featurettes/documentaries: Inside Licence to Kill (32:01) explores the advancement of the Bond character from his early gadget-focused days to a more darker/"harder edge" tone; Production Featurette – Behind the Scenes (4:57) is an original featurette made to advertise the movie (no doubt aired on NBC, ABC or CBS); Kenworth Truck Stunt Film (9:31) is an older original featurette on the stunts features in the film; and lastly is the music video (4:02) to "If You Asked Me To" by Patti Labelle.

Within MINISTRY OF PROPAGANDA and the IMAGE DATABASE is a theater archive with two TV spots and a gallery of pics for you to check out.



---
.::AUDIO & VIDEO::.
---
Licence to Kill is presented in its original 2.35 aspect ratio and overall, it's not a bad looking transfer. Of course, given it is 20 years old, I didn't expect a perfect video and really, it's not an eye-popping video but still pleasing to the eye.

The DTS-HD Master Audio 5.1 track sounds pretty good as well. Dialogue levels were nice and the sound effects were evenly distributed across the five channels. The only drawback, through no fault of the track, is the awful opening title song *shudder*. Anyway, the release also includes the original English Dolby Surround and Dolby Digital 5.1 tracks in French and Spanish.



---
.::OVERALL::.
---
Licence to Kill, while not very popular at the time, is the James Bond closer to what creator/author Ian Fleming envisioned. Was Timothy Dalton the perfect choice? I'm not sure, but he sure as hell is head and shoulders better than Roger Moore's campy take on 007. As for the Blu-ray release, again, the video and audio are both quite good and with all the features being ported over, it is once again another nice Bond on BD release by Fox.