Mean Girls (2004)
Genre(s): Comedy
Paramount || PG13 - 96 minutes - $14.98 || September 21, 2004
Reviewer: Brian Oliver || Posted On: 2005-01-04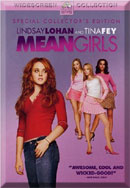 ---
---
---
.::MOVIE INFORMATION::.
---
Director: Mark S. Waters
Writer(s): Rosalind Wiseman (book), Tina Fey (screenplay)
Cast: Lindsay Lohan, Rachel McAdams, Lacey Chabert, Amanda Seyfried, Tina Fey, Lizzy Caplan, Daniel Franzese, Tim Meadows


Theatrical Release Date: April 30, 2004




.::DVD INFORMATION::.
---
Supplemental Material:
Director, Producer, Writer-Actress Commentary
Deleted Scenes
Word Vomit (Blooer Reel)
Only the Strong Survive - Featurette
The Politics of Girl World - Featurette
Plastic Fashion - Featurette
Theatrical Trailers and TV Spots
Technical Information:
Number of Discs: 1
Widescreen (1.85)
English (Dolby Digital 5.1), English (Dolby Surround), French (Dolby Digital 5.1)
Subtitles: English, Spanish
Comment on this and other movies on the message board!
---
.::THE FILM::.
---
Mean Girls was a sleeper hit of '04 and destined to be a cult classic in the coming years. As far as the film goes in the opinion of someone who is almost six years removed from high school, it still is a good teen comedy that gets beyond the stupidity of teen flicks of the past (like Drive Me Crazy or Whatever It Takes). Mean Girls doesn't dumb down the material nor talk down to its core audience. It has a message that doesn't get too "Disney" or gooey and the young star actually can act.



---
.::SPECIAL FEATURES::.
---
Commentary by director Mark Waters, producer Lorne Michaels and writer/actress Tina Fey provide an interesting commentary that pretty much stays on topic while still horsing around and -- seem to -- have fun. They give some little tid-bits about the filming (Tim Meadows broke is wrist or arm a couple of weeks before filming) or Fey makes fun of herself and her "acting" ability. They also clue us in that this or that actress was meant for a certain role, etc. A fun listen that is also informative.

Deleted Scenes: There are 9 deleted scenes clocking in at around 7 minutes. Some of them are funny and but perhaps too silly for the film. One scene was shown in the original trailer where "Damian Rigs Table" and the food slides to the other side and onto Regina (though instead it hits one of the other girls). The commentary attached basically says the same thing most directors say, that it wasn't that the material was good but because it "slowed things down". And although some of these scenes were decent, he maybe right.

"Only the Strong Survive" Featurette: This is your basic 'making of' feature with standard interviews with the cast and crew where they tell you how great the others were. Not a bad featurette, but useless to me. You get more information about the actual making of the movie from the commentary than anything else. What was interesting, however, was how Tina Fey turned a non-fiction book into a movie script.

"The Politics of Girl World" Featurette: Has more focused interviews with not only the cast, but with the writer of "Queen Bees and Wannabes" explaining how and why things must change how girls think of themselves and their fellow classmates and/or friends. Part of the blame goes toward the media, however, it is explained that it is the girls themselves that enforce the "rules" of how they should look and act. Coming from a 25 year-old man, this is interesting to watch.

"Plastic Fashion" Featurette: Why oh why? They were doing so well with the feautettes up to this point. Well, I guess this short may be geared towards girls who want to know what went into the costume design for the movie. Throw away as far as I'm concerned.

The rest of the disc has TV spots, a theatrical trailer, plus a few previews. Standard DVD stuff, but I like having them since otherwise I'd probably complain they weren't there. Also included is a blooper reel where the actresses make flubs, the audience laughs at their stupidity and then we move on. I liked it and it was funny enough.



---
.::AUDIO & VIDEO::.
---
The sound and picture for a comedy is hard to really criticize but I will give it a try. The picture, as usual, is near perfect and the movie sounds pretty good though the other speakers (beyond the center one) aren't used too much (and don't have to be). Let's face it, you're not going to get this movie because either of these two things aren't "perfect". It's one thing to feel an explosion in an action flick, it's another for a conversation.



---
.::OVERALL::.
---
Mean Girls is certainly a popular film and could reach a level of Fast Times at Ridgemont High one day, but for now it's just a "pretty" funny flick. I'm sure Mean Girls 2 is already being talked about.