Meet the Robinsons (2007)
Genre(s): Adventure / Animation / Comedy
Disney || G - 95 minutes - $29.99 || October 23, 2007
Reviewer: Kushmeer Farakhan || Posted On: 2007-10-31
---
---
---
.::MOVIE INFORMATION::.
---
Director: Stephen J. Anderson
Writer(s): William Joyce (book); Stephen J. Anderson, Jon Bernstein, Michelle Bochner, Nathan Greno, Don Hall, Aurian Redson (screenplay)
Cast: Angela Bassett, Laurie Metcalf, Harland Williams, Adam Williams, Nicole Sullivan, Tom Selleck


Theatrical Release Date: March 30, 2007




.::DVD INFORMATION::.
---
Supplemental Material:
Director's Commentary
Deleted Scenes
Inventions That Shaped the World Featurette
"Inventing the Robinsons" Making-Of Featurette
2 Music Videos
Family Function 5000 Game
Technical Information:
Number of Discs: 1
Widescreen (1.78)
English (Dolby Digital 5.1), French (Dolby Digital 5.1), Spanish (Dolby Digital 5.1)
Subtitles: English
Comment on this and other movies on the message board!
---
.::THE FILM::.
---
Note: Screen caps not from the DVD source.

When I first heard about Disney's latest in-house, non-Pixar CGI feature, Meet the Robinsons, I was less than enthused. Disney's 2D features had become all but extinct thanks to a series of formulaic non-performers at the box office and Disney's last CGI flick, Chicken Little (which I admittedly never sat through) looked like kid pandering garbage to me. Yes, there was always the Pixar flicks but to me, they just work with Disney to market their stuff. I don't feel like they're really that big a part of their actual studio.

Nonetheless, here it is and it was nowhere near as bad as I thought it would be. In fact, it was actually pretty good.

The story follows a young orphan named Lewis who is disenchanted about failing to be adopted by potential families time after time and thus Lewis creates a machine that will help him remember his birth mother and even go back in time to find out why she gave him up and convince her to do otherwise. Yeah, based on Disney's goofy ads, I wasn't expecting that either and for the entire first act, we get one of the sweetest, most heartfelt Disney films in a long time. We follow Lewis as he does his best to get his time machine/memory machine working and see him fail and stumble through it with frustration.

Enter Wilbur and Bowler Hat Guy, two other key characters. Wilbur (unbeknownst to Lewis) is a time traveling 13 year old who has come back in time accidentally and needs Lewis to help him get back. Bowler Hat Guy is an goofy, mustache twirling villain who stranded Wilbur there in the first place by stealing his family's time machine.

This is where the film starts to lose me a bit. At this point, through a bunch of... stuff happening, Wilbur and Lewis end up getting Wilbur's family's time machine back and traveling back to the future (with Bowler Hat Guy tagging along as well). Once we hit the future, the movie becomes super cartoony and never looks back. We are introduced to a bunch of wacky relatives played by Adam West, Nicole Sullivan, and Tom Selleck amongst many others and we meet the Robinsons (as the title suggests).

Bowler Hat Guy's plan starts to go into effect and yada, yada, yada; Lewis has to save the future.

I know Iím sounding flip, but it's not that bad. The animation by Disney's in-house CGI unit is slowly approaching Pixar quality and I think the film has a very nice heart to it along with some great voice acting. It's also got a great twist on the villain (which I got pretty early on but I think that's maybe cause i read a lot of comic books. I'm not sure normal folk would get it that fast). The problem with the film lies in that it plays things too safe. What was the deal with the singing frogs? Haven't we all heard this Rat Pack joke before in other, funnier films? Lame. The film is peppered with goofy junk like that which I guess is just to entertain kids but I was not amused.

Still, I can't dislike Meet the Robinsons. It's a very heartfelt film and I think it's great if you've got kids.



---
.::SPECIAL FEATURES::.
---
Deleted Scenes - Are mostly kind of blah. They don't really add much to the story I'm glad they were exorcised.

Inventions that Shaped the World Featurette - Isn't too bad. It reminded me of the animal featurettes on Disney's recent Jungle Book DVD, informative fluff that you don't feel silly for sitting through.

Inventing the Robinsons Featurette - Is quite good. I had no idea this started off as a book. Lots of great interviews and stuff with all involved.

Audio Commentary with director Stephen Anderson (w/special guest)-Is easily the best feature on the set. Anderson has a passion for this material and what he's done here that I haven't seen on an animated project (or really, much of any project) in a long time. He totally won my respect and I've become a fan of his. The "special guest" thing is a little goofy at times BUT being in his position, Iím not sure I wouldnít have done the same thing.

Also available are 2 Music Videos (Rob Thomas and Jonas Bros.) and Family Function 5000 Game for kids.



---
.::AUDIO & VIDEO::.
---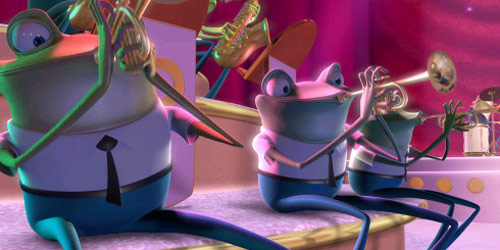 Crisp, Clean, Bright and gorgeous is the order of the day as Disney does it again with their amazing visual quality DVDs. That's one thing they NEVER mess up on their flicks. The audio is great but not as amazing as some of their previous releases. Still good though.



---
.::OVERALL::.
---
Meet the Robinsons is a great family movie (a decent one for adults) and as a DVD it's fun for fans and casual viewers alike. Thumbs up overall.