The Mist (2007) - Two-Disc Collector's Edition
Genre(s): Drama / Horror / Science Fiction / Thriller
Weinstein Company || R - 126 minutes - $32.95 || March 25, 2008
Reviewer: Brian Oliver || Posted On: 2008-03-30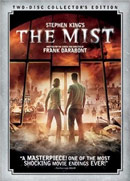 ---
---
---
.::MOVIE INFORMATION::.
---
Director: Frank Darabont
Writer(s): Stephen King (novella); Frank Darabont (adapted by)
Cast: Thomas Jane, Marcia Gay Harden, Laurie Holden, Andre Braugher, Toby Jones, William Sadler


Theatrical Release Date: November 21, 2007




.::DVD INFORMATION::.
---
Supplemental Material:
Disc 1:

Writer/Director Commentary
Deleted Scenes
Drew Struzam: An Appreciation of an Artist
Behind-the-Scenes Webisodes
Trailer Gallery


Disc 2:

Frank Darabont Introduces The Mist in Black & White
The Director's Vision: The Complete Feature in B & W
When Darkness Came: The Making of The Mist
Taming the Beast: The Making of Scene 35
Monsters Among Us: A Look at the Creature FX
The Horror of It All: The Visual FX of The Mist
Technical Information:
Number of Discs: 2
Widescreen (1.85)
English (Dolby Digital 5.1), Englist (Dolby Stereo)
Subtitles: English, Spanish
Comment on this and other movies on the message board!
---
.::THE FILM::.
---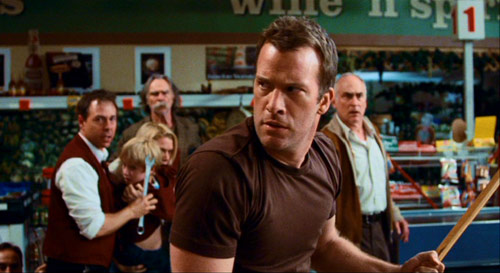 "Fear changes everything."

And fear is at the forefront of the latest Stephen King incarnation, The Mist. Director Frank Darabont once again takes charge of another King adaptation after 1994's brilliant Shawshank Redemption and 1999's The Green Mile.

This time, Darabont takes on the horror-thriller genre, one idle fans of King know him for, with a story about a father, David (Jane; The Punisher), and his son (Gamble; the upcoming Dark Knight) trapped inside a grocery store as a mist moves in on their small Maine town. They don't know what it is but there seems to be something inside, picking people off one by one. Amongst them are a lawyer (Braugher; City of Angels), religious — end-of-the-world-type — zealot Mrs. Carmody (Harden; Into the Wild), attractive female Amanda (Holden; Fantastic Four), grocery store worker Ollie (Jones; Infamous) and a plethora of others ripe for the picking.

The Mist isn't a great movie, but it does have its tense moments that make it all the worthwhile whether you are a horror fan or not. Yes, there is plenty of blood and gruesome shots, yet there is an interesting story here that is not so hidden. The story centers around fear and what we, as human beings do to one another when authority is unavailable or non-existent. The primary example comes from the female Jim Jones incarnate Mrs. Carmody who, after some time, slowly brings some of the trapped people over to her side of thinking, that the creatures that are attacking the city are a sign of the end times, a wrath from God. Her ranting and raving take on a good portion of certain scenes and are the biggest downside to the entire film.

Marcia Gay Harden is a great actress. Like many Oscar winners, she hasn't been able to shine as much, but even so, she's just campy and unintentionally funny far too much in this film. Her character is one-dimensional and ultimately a cliché (not an undeserved one, however) and she merely detracts from the film rather than add to it. For what it's worth, one could chalk it up to substandard character development than the actress, but she still didn't make the most of it either.

Thomas Jane as the lead is fine, nothing more, though. Jane is a good actor with potential and he does what he can with the role, but, like Harden, he too at times goes over the top. The saving grace is a nice bond between he and Gamble as father and son. The two look good on screen and make you care what happens to the both of them.

Darabont adapts and directs this Stephen King-inspired film very nicely taking on a genre he hasn't really touched since the mid/late 80s and early 90s (his first major film debut was a writing credit on Nightmare on Elm Street 3). Here, he brings a movie quite reminiscent of the classic 1970s monster flicks. He builds tension to the breaking point and still reveals one more trick up his sleeve, this time with an ending that was as advertised: shocking and unpredictable (and one not in the King novella). And this isn't an ending that comes out of nowhere either. It is setup through the central theme and executed effectively (enough). Though I didn't much care for it, if it went the way I thought it would, I'd be equally critical, so I guess it's a lose-lose for Darabont and company...

For all the problems I had with it, The Mist stacks up nicely with another recent King adaptation, 1408. They don't share much in common outside of unorthodox endings (i.e. non-Hollywood), but as someone who has never read a King book/short story/novella, it's a good primer. As for the movie itself, if you're a fan of horror (old school monster especially), this will not disappoint. Others might not share the same enthusiasm, but it still has great entertainment value even with an ending that will have you thinking about hours, maybe even days afterward.



---
.::SPECIAL FEATURES::.
---
The Weinstein Company once again has put together a nice 2-disc set, with the second disc containing a unique feature that hopefully others will follow suit one day.

DISC 1:
Writer/Producer/Director Commentary – Frank Darabont sits down for an interesting and fact-filled commentary. For my money, Darabont has to be one of the best commentators (at least solo). There are very few pauses and he never runs out of things to say about the production or actors. Co-producer Denis Huth also chimes in a little.

Deleted Scenes (14:48) – 8 scenes are included with an optional commentary from Darabont. As he explains, all of them were cut for pacing reasons and, since this is a horror movie, he wanted to keep the runtime less than 2 hours. Some elements were in the final film, but just cut down to keep things moving to removing a minor plot point.

Drew Struzan: An Appreciation of an Artist (7:28) - Though not in itself that great by comparison with other features, I thought this was an interesting featurette that introduces you to a man whose work everyone has seen at one time or another. Drew Struzan is a poster artist who has designed some of the most high profiled posters like Harry Potter, Indiana Jones and Star Wars to name a few (and, of course, The Mist). It's nice that Darabont and others took the time to honor a man not many know about.

Webisodes (10:16) – Three of these Web video blogs chronicle the making of certain scenes, like a man getting set on fire. These are cool little featurettes and no harm in including them with the set, but they're not all that in-depth.

Last on the first disc is a trailer gallery.

DISC 2:
Black & White Version of the Film – Like I did with 1408, I am going to consider this a special feature even though, as Darabont explained in an optional introduction (3:18) that if there was a director's cut, this would be it. Sampling the movie in black and white, I felt that it isn't just a gimmick but an entirely different movie. Watching it in B&W, you see different shadows and it showcases the movie in a different light than the colorized version. In hindsight, I kind of wish I had watched this version first and would recommend others to do the same. This version gives it that real old school monster/horror quality.

When Darkness Came: The Making of The Mist (37:26) – This featurette doesn't deviate much from others, but it is extensive enough featuring interviews with the cast and crew, including Darabont. It goes through the origins as Darabont debated whether to make this or The Green Mile. We also get to see the set construction and other behind-the-scenes footage.

Taming the Beast: Shooting Scene 35 (12:11) – This takes a closer look at the big monster siege/attack on the supermarket.

These next two I'll talk about here as they cover similar areas. First is Monsters Among Us: A Look at the Creature FX (12:46) and the other is The Horror of It All: The Visual FX of The Mist (16:04). Both featurettes delve into the creature effects, be it special or visual. Together, and in combination with "When Darkness Came", you get an all encompassing 'making-of' (with a total runtime of ~56 minutes).





---
.::AUDIO & VIDEO::.
---
The Mist looks great on DVD. It is presented in anamorphic widescreen with a 1.85 OAR. Black levels look good and although I didn't see it theaters, I assume it looks the same with little/no alterations. I noticed some graininess especially when outside in the mist, but it doesn't detract and I doubt it's a transfer flaw. I also wanted to make note on the Black & White version to say that that too looks incredible (even more so).

The audio isn't fantastic and really doesn't get an "oomph" until towards the end as Dead Can Dance's song, "Host of the Seraphim" begins playing during the climax. The subwoofer gets a workout and this haunting song will fill your home theater (I'd play the sequence just for that).



---
.::OVERALL::.
---
Even though I have my problems with The Mist, I still think it's a good horror movie and when you add the B&W version into the mix, this "Two-Disc Collector's Edition" is well worth buying (along with the other features as well). I give major props to The Weinstein Company (and Frank Darabont) for actually producing a 2-disc set worth paying extra for.