The Mummy: Tomb of the Dragon Emperor (2008) - 2-Disc Deluxe Edition
Genre(s): Action / Adventure
Universal || PG13 - 112 minutes - $34.98 || December 16, 2008
Reviewer: Brian Oliver || Posted On: 2008-11-30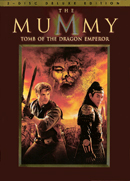 ---
---
---
---
.::MOVIE INFORMATION::.
---
Director: Rob Cohen
Writer(s): Stephen Sommers (characters); Alfred Gough & Mile Millar (written by)
Cast: Brendan Fraser, Jet Li, Maria Bello, John Hannah, Luke Ford, Isabella Leong, Michelle Yeoh


Theatrical Release Date: August 1, 2008




.::DVD INFORMATION::.
---
Supplemental Material:
Feature Commentary
Deleted/Extended Scenes
The Making of The Mummy: Tomb of the Dragon Emperor
From City to Desert
Legacy of the Terra Cotta
A Call to Action: The Casting Process
Preparing for Battle with Brendas Fraser and Jet Li
Jet Li: Crafting the Emperor Mummy
Creating New and Supernatural Worlds
Digial Copy
Technical Information:
Number of Discs: 2
Widescreen (2.40)
English (Dolby Digital 5.1), French (Dolby Digital 5.1), Spanish (Dolby Digital 5.1), English (DVS 2.0)
Subtitles: English, French, Spanish
Comment on this and other movies on the message board!
---
.::THE FILM::.
---
The Mummy movies have always been silly, fun, but often silly. Although I personally never fell in love with either The Mummy or its sequel The Mummy Returns, they both possessed a certain amount of creativity that at least made each tolerable; and it didn't hurt having the lovely Rachel Weisz in them either. Now 7 years later, Brendan Fraser is back to kick more undead ass in The Mummy: Tomb of the Dragon Emperor, this time set in mid-1940s China.

Simple story: Rick O'Connell's (Brendan Fraser) boy, Alex (Luke Ford) is a tomb raider himself like his father and he's uncovered one of the great finds: the tomb of Emperor Han (Jet Li). You see, centuries earlier, Han had built a grand army, an army that would control China and take down anyone who opposed them. He also had a general who disobeyed his orders not to touch Zi Jaun (Michelle Yeoh), a mystic woman who has the power to grant Han eternal life. Of course, not like we haven't seen this before, the general betrays Han, so Han has the man killed, but not before Zi Jaun placed a curse which entombs Han and his army.

Now Alex has unearthed this tomb, other actions are set into place and Emperor Han has been awoken and Alex with his Pops and mother, Evelyn (Maria Bello) and good old funny Uncle Jonathan (John Hannah) set out to stop Han before he can raise his army and rule the land once again. They receive help in the form of Lin (Isabella Leong), Zi Jaun's daughter and trek from China to the Himalayas and Shangri-la where they also encounter Yetis. Yes, giant Yetis, how fantastic is that?

While Fraser does return, by most indications for the money, gone is Weisz's undeniable charm replaced by the oh-so miscast Maria Bello, who never looked comfortable. I have nothing but respect for Maria Bello, in fact I fell in love with her after seeing Coyote Ugly and again in History of Violence, but she was all wrong for this part. It didn't look like she had any idea what to do and the chemistry between she and Fraser was not there.

In the end, the film's failure falls upon director/studio hack Rob Cohen. I like what Cohen developed with The Fast and the Furious and xXx, two of my favorite no-brainer movies, but Tomb of the Dragon Emperor lacks energy from the word go and never built up any sort of momentum to the final lame-ass fight scene between Fraser and Li. There's no visual flare (not surprising) and, most of all, no fun.

The Mummy 3 is also hampered with lousy writing from Alfred Gough and Miles Millar, the guys behind "Smallville". I know that show has had its problems over the seven year run (they departed after the seventh season), but they've brought some good ideas to the table but were overmatched with two-dimensional characters, bad casting and average visual effects, the one thing the Mummy movies had going for them. Another thing missing is the humor that Fraser is so good at delivery that was also missing.

I may not have loved either of the previous installments, but I could at least sit through them and enjoy different aspects between Fraser and Weisz or the visual/special effects, but everything that made those movies worth their weight were stripped for box office profits that, despite a disappointing domestic take, made a ton overseas that a fourth go-around is in the works.

In the end we have a film with no soul and, most of all, no reason to watch.



---
.::SPECIAL FEATURES::.
---
Universal is releasing The Mummy: Tomb of the Dragon Emperor in a "2-Disc Deluxe Edition" loaded with features. The first disc contains features also available on the single-disc release.

Disc 1 has a selection of forgettable deleted/extended scenes (10:43) and a feature commentary with director Rob Cohen. These features are available on the 1-disc edition.

Disc 2 contains over 80-minutes worth of featurettes, but for all the time spent, they really don't amount to much...

The Making of The Mummy: Tomb of the Dragon Emperor (22:47) is your basic 'making-of' where we get on-set comments from the cast and crew as well as some behind-the-scenes footage. It's too bad all the fun the cast was having on the set didn't translate to the big screen.

From City to Desert (15:43) takes a look at how the production shot in Canada for certain scenes (the Himalayas primarily) then moving to the desert in China.

Legacy of Terra Cotta (13:35) examines the history behind the Terra Cotta and fitting that into a Mummy movie.

A Call to Action: The Casting Process (4:44) is ultimately a waste of time as the cast and crew talk about how great it was to be in the movie and the fact that they only glossed over the re-casting of Evelyn.

Preparing for Battle with Brendan Fraser and Jet Li (10:40) is about the fight scenes performed in the movie from Fraser to Li and the supporting cast.

Jet Li: Crafting the Emperor Mummy (7:59) is more of featurette on the visual effects of taking Li's facial features and body language and translating it into a CGI character.

And finally, Creating New and Supernatural Worlds (8:34) and a digital copy round out the features. With "Creating", the featurette is more behind-the-scenes looks at the set design and back stage sets in China.



---
.::AUDIO & VIDEO::.
---
The Mummy 3 is presented quite nicely in its OAR of 2.40. The colors look good and I noticed no obvious artifacts or other imperfections. I paid close attention to any sort of artifacts in the actors or surrounding scenes and thought that for an SD release, this looked pretty damn good, it's just a shame the movie didn't match the video quality.

The Dolby Digital 5.1 track is actually very strong and other than a little issue with dialog levels in certain spots, this is a great track that gives a little oomph between each action sequence.



---
.::OVERALL::.
---
The Mummy: Tomb of the Dragon Emperor is nothing short of a hack job of a sequel. Gone is the fun, Oscar-worthy visual effects and a good story replaced with boring/mundane action sequences, run-of-the-mill effects and a screenplay that needed a good 3 more drafts to fix some major issues. It also didn't help that Cohen (or whoever was really in charge) got rid of Rachel Weisz and merely recast the role rather than work the character's departure into the story, at least then we would care what happened to these people.