Next (2007) [Blu-Ray]
Genre(s): Action / Science Fiction
Paramount || PG13 - 96 minutes - $0.00 || May 20, 2008
Reviewer: Brian Oliver || Posted On: 2008-05-17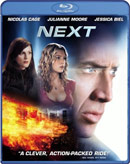 ---
---
---
---
.::MOVIE INFORMATION::.
---
Director: Lee Tamahori
Writer(s): Philip K. Dick (short story, "The Golden Man"), Gary Goldman (story), Gary Goldman and Jonathan Hensleigh and Paul Bernbaum (screenplay)
Cast: Nicolas Cage, Julianne Moore, Jessica Biel, Thomas Kretschmann, Tory Kittles, Peter Falk


Theatrical Release Date: April 27, 2007




.::DVD INFORMATION::.
---
Supplemental Material:
Making the Best Next Thing
The Next "Grand Idea"
Two Minutes in the Future with Jessica Biel
Visualizing the Next Move
Theatrical Trailer
Technical Information:
Number of Discs: 1
Widescreen (2.35)
English (PCM 5.1), English (Dolby Digital 5.1), French (Dolby Digital 2.0), Spanish (Dolby Digital 5.1)
Subtitles: English, French, Spanish, Portuguese
Comment on this and other movies on the message board!
---
.::THE FILM::.
---
Everything except for a notation in the Special Features section and a new rundown on the audio and video is the same as my original DVD review. About the movie, I will only add that my thoughts on it have remained the same after watching it again. This is just a re-release before Paramount pulled it after going HD DVD exclusive.

Plot Outline (from DVD back cover): Cris Johnson (Cage) earns his living in a seedy Las Vegas magic act, but his ability to see a few minutes into the future is authentic. Government agent Callie Ferris (Moore) knows this, and relentlessly recruits him to help thwart a terrorist group from detonating a nuclear bomb in the heart of Los Angeles.

Based loosely on Philip K. Dickís ďThe Golden ManĒ, Next looks less like a Hollywood blockbuster and more like something made for the SciFi Channel. It does offer some escapism-esque entertainment value but itís tough for me to say itís anything more than a decent movie. Obviously since 1982ís Blade Runner, Philip K. Dickís properties have been hot in Hollywood also giving us Total Recall, Minority Report and A Scanner Darkly. Yet, he also was the inspiration behind Impostor and Paycheck. Certainly he has vision but in the case of ďThe Golden ManĒ (Next), itís more Minority Report-lite than anything.

Writers Gary Goldman (Big Trouble in Little China, Total Recall, producer on Minority Report), Jonathan Hensleigh (Die Hard 3, The Saint, The Punisher) and Paul Bernbaum (Halloweentown, Hollywoodland) all try their hands, I think separately, in bringing some life to the film. What do we get between the three? Little character development, bland suspense sequences and just an overall average story that couldíve been so much better.

Nicholas Cageís career, as Iíve already touched upon in my Face/Off review, has had a spotty career so far. Two of his worst performances are The Wicker Man and Ghost Rider, so itís with great pleasure to say heís quite subdued and to a certain extent, at home with this role. Cage has never had a problem portraying the underdog, everyday man kind of character and given how poorly executed the other parts of the film was, his performance is actually one of the bright spots.

The biggest offender going against Next is probably Lee Tamahoriís direction. Not much should be expected from the guy and he did release the action-packed Die Another Day but has since delivered the awful xXx: State of the Union and now this outing is uninspiring. The problem is everything in Next is simply ordinary despite an interesting concept (and thatís all it is) and a solid starting lineup with Cage, Julianne Moore and Jessica Biel.

Speaking of the cast, I understand how Cage could become involved since this is the same guy who felt The Wicker Man was a worthy project, but Julianne Moore and Jessica Biel? Neither of these ladies -- especially the latter -- arenít exactly having a tough time finding work.

The story itself is fine and while many may groan at the ending, I found it more than suitable as anything was needless (though adding some extra wouldíve been nice). They tried developing Cageís and Bielís characters and I just couldnít believe it. And itís not just the creepy factor (Cage is twice Bielís age), but instead we have Biel falling for Cage within only hours (and sleeping together). Yeah, the whole idea of destiny is presented, but itís still unbelievable.

The other obvious mishap, and how this looks and feels like some SciFi Movie, is the CGI work. It seems as if the production ran out of money toward the end and half-assed some of the special effects. Two obvious examples is the train v. car explosion early on and a nuclear explosion on the pier toward the end. What I saw on the screen was on the level of the SciFi Channel, NOT an $80m+ Hollywood movie.

Next is a flawed movie and itís no wonder why it made a mere $57 million worldwide (only $18m in the States). It certainly isnít a bad movie and if you can accept the bad CGI or simplistic screenplay, youíll find at least some entertainment.



---
.::SPECIAL FEATURES::.
---
Given its box office failure, the fact Paramount including anything beyond trailers is amazing.

All features on the Blu-Ray disc are presented in high-def.

Making the Best Next Thing (HD, 8:16) - A Ďmaking-ofí featurette that goes through the typical motions featuring interviews with cast (Cage, Moore and Biel) and crew (mainly the writer and producers) and gives a glimpse into how the movie was made.

Visualizing the Next Move (HD, 7:47) - Since one of the filmís weakest points were the effects, itís interesting seeing the visual effects makers and the stages it went through from pre-vis to final product. There didnít seem to be much enthusiasm for their work on this one.

The Next ďGrand IdeaĒ (HD, 6:54) - Part of the movie takes place at the Grand Canyon and they use an Indian tribe that reside there.

Two Minutes in the Future with Jessica Biel (HD, 2:30) - Biel does an interview (of sorts) and talks about her views on seeing the future and what it would be like. If youíve seen the interview on The Illusionist DVD, this is the same kind of thing.

The Blu-Ray disc also includes the original theatrical trailer and in HD. This was not available on the SD version.



---
.::AUDIO & VIDEO::.
---
I mentioned in my DVD review that the picture looked perfect save for a couple of shots (the police chase for example) and although it still looks odd on Blu-Ray, I must chalk it up to bad CGI or poor directorial style than with the transfer. In any case, the picture, presented in its OAR of 2.35 (contained on a 50GB disc with 1080p resolution) does look great in hi-def, as any new feature should. Colors are sharp and I assume it looks just as it did in the theater (still doesnít change the fact the visual effects were looks like crap).

Along with the standard Dolby Digital 5.1 tracks, available in English and Spanish (as well as 2.0 mix in French), the Blu-Ray adds on an uncompressed PCM 5.1 mix as well. The default setting when you first play the movie, at least in my case, was the DD5.1 track, so things started out a bit soft but once I switched it to the PCM track, things picked up some. Dialogue at times didnít seem to have the necessary depth but when action sequences come around, the track did wonders.



---
.::OVERALL::.
---
If I had seen Next at the theater, I probably wouldíve given it a lower rating. But for DVD, I think itís at least semi-entertaining best as a rental rather than purchasing. It has a lot going against it, but the movie does provide a certain escapist entertainment value.

BLU-RAY REVIEW UPDATE: My above thoughts remain the same only to add for those who own a Blu-Ray player; this isnít a movie worth buying. Yes, the entertainment value is OK and the picture does look great, but is it worth paying $10+ over its DVD counterpart? No.

Note: Images do not represent the true picture quality of the film. Also, picture and audio ratings are on a high-def scale.