The One (2001) - Special Edition [Blu-ray]
Genre(s): Action / Martial Arts / Science Fiction
Sony || PG13 - 87 minutes - $28.95 || March 31, 2009
Reviewer: Brian Oliver || Posted On: 2009-04-01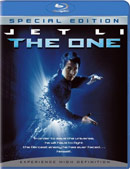 ---
---
---
---
---
.::MOVIE INFORMATION::.
---
Director: James Wong
Writer(s): Glen Morgan & James Wong (written by)
Cast: Jet Li, Delroy Lindo, Carla Gugino, Jason Statham


Theatrical Release Date: November 2, 2001




.::DVD INFORMATION::.
---
Supplemental Material:
Feature Commentary
4 Featurettes
Animatic Comparison
Technical Information:
Number of Discs: 1
Widescreen (2.40)
English (Dolby TrueHD 5.1), French (Dolby TrueHD 5.1), Portuguese (Dolby TrueHD 5.1), Spanish (Dolby Digital 5.1)
Subtitles: English, English SDH, French, Portuguese, Spanish
Comment on this and other movies on the message board!
---
.::THE FILM::.
---
The late '90s, early 2000s introduced America to martial arts International superstar Jet Li. Not only does the guy have mad skillz (as the kids said at one point) but he has a cool as hell name. Li made his Western debut in 1998 with fairly innocuous Lethal Weapon 4 following it up with Romeo Must Die, Kiss of the Dragon and... The One. His first follow-ups weren't the greatest but for a countermeasure to Jackie Chan's comedy martial arts style, they were entertaining films. The One isn't an entirely innovative movie in terms of story but the visual effects, while not coming close to that of The Matrix, is pretty cool for its time.

The story is about alternate universe's each containing one of every person in a variation of world conditions. For instance, in the opening we find that the particular universe we are in has Al Gore as President of the United States in contrast to later on where our world George W. Bush is President. There are apparently portals that open up and take anyone to any universe they desire and when the movie begins a rogue "time cop", aka MVA, (universe travel is strictly forbidden except for police procedures) named Gabriel Yulaw (Jet Li) has made it his mission to kill every form of himself in the alternate universes as he grows stronger with each kill. This causes the life energy apparently each Yulaw possesses to be split with the rest.

Yulaw escapes from custody after being captured by MVA Agents Roedecker (Delroy Lindo) and Funsch (Jason Statham), and travels to the remaining universe to finish his mission and become... wait for it... THE ONE! This final universe is our very own where this Gabriel is in fact a member of the LAPD and after some initial shock/confusion, the two Gabriel's must fight. Hot on the evil Yulaw's trail are Roedecker and Funsch but there's a hitch: because there are only two Yulaw's remaining, if they must kill the evil version, the good one must also be terminated to bring harmony to the universes (or something like that).

The One is an entertaining movie for sure, but it was easily one of the hardest entertaining movies to sit through. I didn't have much of an issue with the writing, plot or even Jet Li's thick accent, but the direction by Final Destination 1 and 3 director James Wong and the editing style just felt off for some reason as I had a hard time getting into the flow even to the obvious, but fun, finale.

The movie isn't all that great or even memorable as now-a-days the visual effects have advanced so much that even a moderately budgeted television show can match what we see in this film. That being said, for its age, now 8 years old, it's not a bad visual effects feast and vehicle for Jet Li who has kind of fallen off a bit with a low point appearing in The Mummy: Tomb of the Dragon Emperor, which was nothing more than a cameo with little dialogue (but he was good in War, so he hasn't hit bottom yet).

The One co-stars Delroy Lindo, a pre-Transporter Jason Statham and the lovely Carla Gugino playing Yulaw's main squeeze (both good and evil versions).



---
.::SPECIAL FEATURES::.
---
From what I could tell, all the features from this "Special Edition" have been ported over from the DVD version and are presented in standard definition.

Feature Commentary – Director James Wong and members of the crew (including the editor and production designer) provide some behind-the-scenes information about the movie but this isn't anything fantastic, just your basic commentary track.

Next are three featurettes: Making-of: Jet Li is "The One" (13:39), Multiverses Create "The One" (18:48) and About Face (5:56) – All of these are presented in full frame feature the usual interview and behind-the-scenes footage but none really stand out as a must-see featurette, but good enough that I'm glad Sony actually ported them over.

Last is The Many Faces of Jet Li (2:22), a video mash-up of all the multiverse versions of Jet Li, and an Animatic Comparison (1:26).

BD-Live – Just your basic portal to the Blu-ray universe where one can view trailers and check out other info for Sony projects. ** Blu-ray Exclusive **



---
.::AUDIO & VIDEO::.
---
The One is presented in 1080p high-definition with a 2.40 original aspect ratio. The movie looks OK in high-def but from the studio logos I could tell this was going to be a transfer filled with plenty of noise as each scene, especially darker ones, is littered with it. The picture itself does look sharp, but not very crisp due to the age but I didn't notice any dust, scratches or other imperfections with this transfer.

The Blu-ray comes with TrueHD 5.1 audio in English, French and Portuguese (Spanish is in Dolby Digital 5.1). The audio experience is pretty good as this is basically 80-minutes of martial arts action. It's not going to wow anyone with depth or anything as much of the audio comes via the front and rear channels with a little bass kicking in for effect.



---
.::OVERALL::.
---
The One for all its flaws between a weak story and subpar direction by James Wong, is still a semi-entertaining flick. This isn't a movie that has or will stand the test of time but it does showcase Jet Li's martial arts skills even when his acting level is very one-dimensional.