Pirates of the Caribbean: Dead Man's Chest (2006) - 2-Disc Special Edition
Genre(s): Action / Adventure / Comedy / Fantasy
Disney || PG13 - 150 minutes - $34.99 || December 5, 2006
Reviewer: Brian Oliver || Posted On: 2006-12-02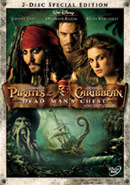 ---
---
---
.::MOVIE INFORMATION::.
---
Director: Gore Verbinski
Writer(s): Ted Elliott & Terry Rossio (characters) and Stuart Beattie & Jay Wolpert (characters), Ted Elliott (written by) & Terry Rossio (written by)
Cast: Johnny Depp, Orlando Bloom, Keira Knightley, Jack Davenport, Bill Nighy, Jonathan Pryce, Stellan Skarsgard, Tom Hollander, Naomie Harris


Theatrical Release Date: July 7th, 2006




.::DVD INFORMATION::.
---
Supplemental Material:
Writers' Commentary
Bloopers of the Caribbean
"Charting the Return" - A Preproduction Diary
"Accordin to Plan" - Journal of Filming the Movie
Mastering the Blade
Meet Davy Jones
Creating the Kraken
Dead Men Tell New Tales: Re-Imagineering the Attraction
Jerry Bruckheimer: A Producer's Photo Diary
Fly on the Set: The Bone Cage
Pirates on Main Street: The World Premiere
Technical Information:
Number of Discs: 2
Widescreen (2.35)
English (Dolby Digital 5.1), Spanish (Dolby Digital 5.1), French (Dolby Digital 5.1)
Subtitles: English, Spanish, French
Comment on this and other movies on the message board!
---
.::THE FILM::.
---
Plot (from DVD back cover): Charming rogue pirate Jack Sparrow is back for a grand, swashbuckling, nonstop joyride filled with devilish pirate humor, monstrous sea creatures and breathtaking black magic. Now, Jackís got a blood debt to pay - he owes his soul to the legendary Davy Jones, ghostly Ruler of the Ocean Depths... but ever-crafty Jack isnít about to go down without a fight. Along the way, dashing Will Turner and the beautiful Elizabeth Swann get caught up in the thrilling whirlpool of misadventures stirred up in Jackís quest to avoid eternal damnation by seizing the fabled Dead Manís Chest!

Sometimes I can see a movie in the theater, dislike or merely tolerate it and yet watch that same film at home and find it enjoyable. With something like Pirates of the Caribbean: Dead Manís Chest, Iíd at least hoped the latter would be the case, unfortunately it was not.

The reason I didnít care for POTC2 wasnít because for a lack of production value it wasnít for bad casting as Johnny Depp (he is easily one of the best actors of this generation), the young starlet Keira Knightly or even the oft Net bashed Orlando Bloom, because theyíre all charismatic. No, the reason lays with the writing and in turn, the direction by Gore Verbinski. Why a pirate movie needed to be two and a half hours long is beyond me (and part 2 of a trilogy no less). I think the issue was Disney, Bruckheimer, Verbinski and the rest wanted to make an epic along the scale of a Lord of the Rings. Despite what amounts to three main characters, a more simplistic approach to the story probably wouldíve been more suited.

Dead Manís Chest starts out with arrest of Will and Elizabeth for the escape of Jack in Pirates 1. Will receives an offer to track down Jack, bring him in as well as his magical compass. Meanwhile, Elizabeth escapes from prison (with the help of her governor father) and gets a pardon signed, then sets off to find Will and in turn, Jack. Yet still, another character from Pearl enters the mix as he too is after the Dead Manís Chest along with the main baddie, Davy Jones. Thereís also the introduction of Willís father, Bootsrap Bill and plenty of Jack Sparrow antics that should satisfy any fan of his. Iím tired just typing the plotlines...

And thereís the primary issue I had with POTC2, thereís so much plot and the film is so long, I wonder if it all was necessary. The film couldíve gone without the reintroduction to Norrington plus a ďDawsonís CreekĒ love triangle with Jack, Elizabeth and Will. Yeah, I love a soap opera with my summer blockbuster -- well, I guess there needed to have something for the ladies other than Depp and Bloom.

After all the bickering Iíve done, Iíll say Dead Manís Chest is an OK film and entertaining enough and though there was a need for some plot cutting, I still found it at least semi-enjoyable. With Deppís Oscar nomination, screenwriters Ted Elliott and Terry Rossio put in as much Jack Sparrow as they could, but I hope that is curtailed some in Pirates 3. I am going to cut my original rating ever so slightly since there were times I was actually a tad bored.

Click Here to read my original review. I did not read it again so there may be some redundancy between it and this review.



---
.::SPECIAL FEATURES::.
---
It has become accustomed that studios release a one-disc minimalist DVD and a 2-disc release packed with features. Paramount (Mission: Impossible III), Warner Bros. (Batman Begins, Superman Returns) and now Disney have figured out a way of providing the public with less and still charge the same. Only a few years ago, one could buy the two-disc Curse of the Black Pearl DVD for around $15, yet today that same kind features will cost you $23. Now, the question becomes, are these extras worth it? If youíre like me and collect DVDs, then the answer is obvious.

Note: These two features are available on the one-disc release.

Writersí Commentary - Screenwriters Ted Elliott and Terry Rossio provide the only commentary and give their perspective of writing the film and trying to make these sequels fit with the original (which was only supposed to be a standalone). Not entirely entertaining, but they give insight into callbacks to the original and explain certain elements of the set designs and such. Nevertheless, the focus of this track remains about writing and favorite lines that were cut or creating other plot elements.

Iím pretty sure that once a more extensive set is released, there will be a commentary with Gore Verbinski and various members of the cast and crew.

Bloopers of the Caribbean (3:50) - The standard muffed lines or missed marks are featured and all around arenít really funny per se, but still gives a glimpse at the cast having fun.

The rest hereone are only available on the two-disc release:

Charting the Return (25:40) - This featurette covers the pre-production on Dead Manís Chest from October 2004 until start of principle photography in February 2005. It shows everything from location scouting, prop design (the water wheel), stunt coordination and, most interesting, issues with the script as well as budget, this feature glances at just about every aspect of the pre-production process from the mundane and ordinary to how close it came that Disney would pull the plug on the project all together.

According to Plan (63:00) - The hour-long documentary takes us from pre-production to principle photography beginning with the crew getting their vaccinations before heading off to St. Vincent for their first shoot, then on to Dominica, Exumas (Bahamas) and Freedport (Bahamas). You canít tell from the final product, but the amount of work Verbinski and the rest did is incredible. They had to ship all the equipment (vehicles, props, etc) from the States to the Bahamas, film in remote locations where the streets are narrow (leaving only slight amount of room to maneuver); and the only way to get from one location to another was to walk up windy roads.

Captain Jack: From Head to Toe (22:37) - Here are 22 mini-featurettes that can be viewed together or by clicking at various parts of a drawing of Jack Sparrow. This shows various aspects of Sparrowís wardrobe, make-up and props featuring interviews with the individuals in charge of those departments and from Depp himself chatting about his character.

Mastering the Blade - You get a glimpse at three of the actorsí training with the sword. Orlando Bloom, Keira Knightley and Jack Davenport show their sword wielding skills under the supervision of stunt crewmen and others. These run over 5-minutes each.

Meet Davy Jones: Anatomy of a Legend (12:23) - Less history lesson, the featurette is an in-depth exploration solely focused on the CGI work done on the Jones character. It shows the transition from actor Bill Nighy working in a gray suit (plus getting scanned into a computer) to filming certain scenes and blending together Nighyís movements and performance with that of Jones in the CPU.

Creating the Kraken (9:52) - This giant squid creature is a Disney creation last seen in 20,000 Leagues Under the Sea and now gets the CGI treatment here, mixed in with some practical shooting. There some insight into how certain scenes were shot on location - like the goo slopped onto Depp or splitting one of ships in half using two giant tubes (painted blue).

Dead Men Tell New Tales (12:54) - A look at the Pirates of the Caribbean amusement rides at both Disneyland and Disney World locations as they get an update by including characters from the movies like Jack Sparrow and others. Thankfully, this isnít merely an advertisement for the ride, but actually give a look at creating an animatronic Jack Sparrow and Barbosa. Depp himself participated recording the dialogue and making sure the movements were right.

Fly on the Set: The Bone Cage (3:46) - Thereís no sound bites here, just someone holding a regular (perhaps HD) camera shooting Orlando Bloom and the rest of Sparrowís crew swinging in the bone cage set against a blue screen. If you have a fascination for movie magic, like I do, then watching something like this is quite fun.

Jerry Bruckheimer: A Producerís Photo Diary (4:40) - Iím not sure if this feature was introduced in the original Pirates, but it might become a staple with most of Bruckheimerís latest blockbusters. This time, we see some of the snapshots Bruckheimer has taken throughout the shoot at various beautiful locations and the actors during some personal reflective moments. Breaking in at times, Bruckheimer explains the photography plus various aspects of filming (and, unfortunately, telestrating some plot points).

Pirates on Main Street: The Dead Manís Chest Premiere (3:57) - A look at the world premiere of DMC at Disneyland as the stars, director and producer walk the red carpet in front of hundreds (maybe thousands) of screaming fans. Just shows the madness this film is and how many fans this franchise has. The screening and an over-the-top entrance for the stars follow this.

While these features are good, Iím 99.9% sure there will be a 3-disc Deluxe Edition (or Directorís Cut) coming before the release of Pirates 3 that will have more extensive featurettes and a couple more commentaries. However, whatís here should satisfy fans of DMC and the franchise as a whole.



---
.::AUDIO & VIDEO::.
---
Dead Manís Chest is presented in anamorphic widescreen, 2.35 OAR and looks fantastic from the dark scenes/sequences to the daylight scenes. An all around perfect transfer as I didnít notice anything off with the picture.

No DTS track this time around, but the Dolby Digital 5.1 mix is satisfying enough and provide depth to dialogue, music score and special effects sound. Like the rest of the disc, Iím sure a new edition will provide a DTS track since the other regions (2 and 4, at least) have that available.



---
.::OVERALL::.
---
I might not be a fan of this franchise, but Bruckheimer knows how to make a hit and he has done so again with this $400m+ (domestic) blockbuster. Though a bit too inclusive for those who havenít seen Curse of the Black Pearl (or havenít seen it in a while) and the film itself goes a tad too long for a summer action-adventure, I can still see the appeal. As for this two-disc set, while thereís still more to be desired (more commentaries and deleted scenes are sure to come), what is here is still nice for any DVD collector (and the holographic-like cover).