A Prairie Home Companion (2006)
Genre(s): Comedy / Drama / Fantasy / Musical
Picturehouse || PG13 - 106 minutes - $27.98 || October 10, 2006
Reviewer: Brian Oliver || Posted On: 2006-10-07
---
---
---
.::MOVIE INFORMATION::.
---
Director: Robert Altman
Writer(s): Garrison Keillor (story) & Ken Lazebnik (story), Garrison Keillor (screenplay)
Cast: Woody Harrelson, Tommy Lee Jones, Garrison Keillor, Kevin Kline, Lindsay Lohan, Virginia Madsen, John C. Reilly, Maya Rudolph, Merly Streep, Lily Tomlin


Theatrical Release Date: June 9, 2006




.::DVD INFORMATION::.
---
Supplemental Material:
Director & Actor Commentary
Onstage at the Fitzgerald: A Music Companion
Come Play with Us: A Feature Companion
Soundtrack Preview
Theatrical Trailer
Technical Information:
Number of Discs: 1
Widescreen (2.35)
English (Dolby Digital 5.1), English (Stereo Surround)
Subtitles: English, Spanish
Comment on this and other movies on the message board!
---
.::THE FILM::.
---
"It was a live radio variety show, the kind that died fifty years ago, but somebody forgot to tell them until this night."

A Prairie Home Companion is acclaimed director Robert Altman's latest ensemble piece centered around the last live radio show (performed in front of an audience) with several strange but quirky characters including some of the people who really worked on the show, first and foremost, creator Garrison Keillor. Personally, I've never heard of "A Prairie Home Companion" but then again, I'm not from that time or region, but the basic format is like Saturday Night Live, except funnier (at least with the last couple crops).

Joining Keillor are sisters Yolanda (Streep) and Rhonda Johnson (Tomlin), Yolanda's death-obsessed daughter Lola (Lohan), the singing/comedy team of Dusty (Harrelson) and Lefty (Reilly) and private eye turned security manager Guy Noir (Kline). Lurking around the premises of the Fitzgerald, where the Prairie Home Companion players put on the show, is a woman (Madsen) dressed in a white trench coat with a spiritual element.

Admittedly, I am not that big of a fan of Altman's past works. I think his actor friendly style attracts these large ensembles, but at the same time, none of the stories I've seen thus far haven't impressed me (save for the brilliant Player). The last Altman film I watched was The Company starring Neve Campbell, the one before was Dr. T & the Women with Richard Gere, Kate Hudson and a slew of others. Problem I had with both films was that despite some good, even great, acting, neither story was engaging. While watching PHC, I also didn't feel as engaged as I should've been, meaning the story didn't grab me, but all these characters are so likeable and there is that sense of an old time value or perhaps nostalgia. Even though I'm a product of the 1980s (and even more so the 90s), I still had a certain understanding of these characters and what they're leaving.

As with most ensembles where each character gets maybe 15 minutes of screen time (and that's with a few others), no one actor really stands out, however, most are veterans with good screen presence and comedic/dramatic timing. Every performance be it Kevin Kline's 30s style detective, Tommy Lee Jones's Axeman -- in what could be called a cameo appearance even amongst an ensemble -- or the comedy duo of Harrelson and Reilly, all have something to contribute.

Other than the wonderful casting PHC has going for it, is the music. I usually like any style outside of country, but I found most of the songs featured here (and apparently are common on the real thing) to be quite catchy (my favorites being "Bad Jokes", though I think I liked it for the actual bad jokes and even the death-centric one sung by Lohan). Most of it is so good, I'm half tempted to run out and buy the soundtrack...

I didn't fall completely in love with A Prairie Home Companion and although the story didn't quite pull me in, I did have that bittersweet feeling at the end seeing these characters meet one last time, I can see myself watching this again.



---
.::SPECIAL FEATURES::.
---
Each special feature is presented in anamorphic widescreen (1.78 aspect ratio). I find usually they are presented in non-anamorphic, so for the owners of widescreen TVs out there, you're getting full use out of it with this set.

Director & Actor Commentary - Director Robert Altman is joined by Kevin Kline in a subdued track featuring both bits of trivia and various camera moves. The track is OK but with an ensemble, one with the group (or a separate track) would've been fun, but obviously it's tough to get all of them together.

Onstage at the Fitzgerald: A Music Companion - You can watch the musical and "advertisement" segments separately. These are the full performances (from the band), so I guess it acts kind of like deleted or extended scenes. Actually quite wonderful and some, like "So Near and Dear to Me", are relaxing.

Come Play With Us: A Feature Companion (48:50) - This 'making-of' documentary is split up into six parts and can be viewed individually or all together.

"The Genesis of A Prairie Home Companion" (5:00) starts things off with where the project came from, namely it's based on a real live variety comedy show created by Garrison Keillor.

"The Adaptation" (6:25) goes through how the radio show was adapted by Keillor and working with him making changes.

"A Master at Work" (8:40) focuses on director Altman and his impact on the movie with comments from various cast members on working with him.

"An All-Star Cast" (14:44) features sound bites from the cast and crew talking about each other, including Tommy Lee Jones, Meryl Streep and Lindsay Lohan (where others comment on her talent and taking such a small role early in her rising career).

"Note by Note" (10:19) tackles the music in PHC and the use of the original band members on the radio variety show. Also learn that Keillor writes the music himself, and like the screenplay, he tended to change or add to it on a whim.

"Signing Off" (3:40) wraps everything up with more comments from various people on their time working on the movie and we also find out that the radio show is still going strong.

Soundtrack Preview - Normally I'd skim over this, but you get listings from the soundtrack including "previews" of some of the songs (clips from the movie). If you're interested, there are 25 tracks that includes the cast and band.

You also get the theatrical trailer, which is rare on current DVDs.



---
.::AUDIO & VIDEO::.
---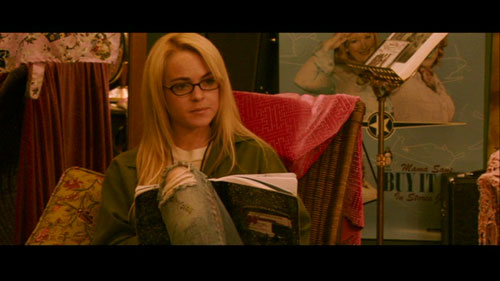 Prairie Home Companion is presented in anamorphic widescreen, 2.35 aspect ratio, and given how recent it is, of course, it looks perfect. However, it also does bring out some of the cool and warm colors that Altman uses in certain areas (especially on stage). There's a certain old tint (a la 1930s) he gives even when in the real world and outside of the theater.

Up front, I will say the Dolby Digital 5.1 mix sounds rich and utilizes each speaker nicely during the performances, but I would have loved to listen to it with a DTS track giving those musical numbers even more depth. Nevertheless, it's still a fine sound mix that will satisfy most people.



---
.::OVERALL::.
---
A Prairie Home Companion may not be a homerun of a film and it's not one you'll recall as great, it still is one of the better movies of 2006 and definitely work at least a rental or, if you're a fan of the ensemble drama, might be worth purchasing. Right now, I'm not sure how often I'll watch it on DVD, but I'm not sorry for spending 100 minutes with these folks.