The Princess and the Frog (2009) - Single-Disc [Blu-ray]
Genre(s): Animation / Family
Disney || G - 98 minutes - $39.99 || March 16, 2010
Reviewer: Tyler Thomas || Posted On: 2010-03-08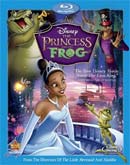 ---
---
---
---
---
.::MOVIE INFORMATION::.
---
Director: Ron Clements, John Musker
Writer(s): Ed Baker (story, "The Princess Frog"); Ron Clements & John Musker and Greg Erb & Jason Oremland, Ron Clements & John Musker and Rob Edwards (screenplay)
Cast: Anika Noni Rose, Bruno Campos, Keith David, Michael-Leon Wooley, Jennifer Cody


Theatrical Release Date: December 11, 2009




.::DVD INFORMATION::.
---
Supplemental Material:
Feature Commentary
6 Featurettes
Deleted Scenes
Galleries
2 Music Videos
Interactive Game
Technical Information:
Number of Discs: 1
Widescreen (1.78)
English (DTS-HD Master Audio 5.1), French (Dolby Digital 5.1), Spanish (Dolby Digital 5.1), English (2.0 DVS)
Subtitles: English SDH, French, Spanish, Portuguese
Comment on this and other movies on the message board!
---
.::THE FILM::.
---
Disney has a long track record of using the exact same formula in every one of their films yet they still manage to become largely successful at both the box-office and on future DVD/Blu-Ray releases. The Princess and the Frog is no different from anything you've seen from them in the past, but I must say I enjoyed the film more so than I have their past few releases. The movie is a light-hearted adventure through the bayou with accents galore and a fun-loving tale adults and children alike can enjoy.

Tiana (Anika Noni Rose) is a maid for Charlotte (Jennifer Cody) and her father Bid Daddy La Bouff (John Goodman). She has big dreams of one day opening up her own restaurant and serving the people of the town her great gumbo soup and has just recently acquired all of the money she needs to open the restaurant. Sadly though, at a dinner party for Charlotte, the people she's trying to buy the empty building from tell her that unless she comes up with more cash she will lose the building. Distraught, she goes to see Charlotte in her room and dresses up like a princess in hopes that she will marry a prince and become rich. Meanwhile, on the other side of town, Prince Naveen (Bruno Campos) and his assistant Lawrence (Peter Bartlett), are on the way to the dinner in hopes that despite the fact Naveen is now broke he can still marry the rich Charlotte and steal her fortune. Sadly though, they run into the dreadful Dr. Facilier (Keith David), who is known around town as the shadow doctor, and their plans turn awry.

Facilier turns Naveen into a hapless frog and changes Lawrence's form into Naveen, so that way Lawrence can marry Charlotte and share the fortune with Facilier. Naveen, now a frog, hops his way to the dinner in hopes to meet Charlotte but instead finds Tiana and, thinking she's a princess, tricks her into kissing him. Much to his dismay though, Tiana isn't a princess but merely a maid and she turns into a frog too! The two frogs escape the scene and head off to the bayou, where they meet Louis (Michael-Leon Wooley), an alligator, and Ray (Jim Cummings), a firefly in need of a shave. The animals quickly befriend one another and the team head off to find Mama Odie (Jenifer Lewis) who can apparently cure them of their frog form. Can the frogs find true love and stop Dr. Facilier's evil plan, or will he succeed and Charlotte's fortune be ruined?

For people who hate musicals or tons of dance numbers, you may want to not bother reading the rest of the review. I was never one to really dive into the world of dancing, musicals, or combinations of the two but I really enjoyed the flick to the upmost extent. I found myself to be enjoying the songs sung and even found myself humming along to a few of the tracks. Some of them in all honesty are quite catchy and even with me lacking any sort of musical talent I was still able to keep a beat. That being said though even if you do hate these types of films you may be able to enjoy it as much as I did.

I've never heard of most of the cast aside from David and Goodman, and I must say that the cast has done a phenomenal job with their respective roles. Anika Noni Rose deserves an award (if she didn't get one already) for her acting in this flick, as does the rest of the cast for their incredible job. I honestly believed that I was in the film and lost myself in the gorgeous visuals and also the way the cast spoke their lines. The movie is incredibly engaging and at times I forgot I was watching a film and thought I was actually in the flick. Wow, I really kind of sounded odd there but seriously, this was a great movie.

You must be wondering though why I only gave this four out of five stars, despite my glowing review (so far, anyways) of the movie. Well, the humor portion of the film just doesn't come right out and cause laughter for viewers. I struggled to chuckle a few times at the funny parts, and then at other times I laughed quite a bit. That's the main problem I've usually had with Disney flicks is that sometimes they can be really hilarious and then for thirty minutes absolutely nothing can go on. This was the only real problem I have with the film though, so besides the little lack of humor there's nothing wrong with the movie.

The Princess and the Frog is the traditional Disney type of movie but that's not really a bad thing. The lack of humor aside you can enjoy this with both friends and family on a Saturday night.



---
.::SPECIAL FEATURES::.
---
Commentary by John Musker, Ron Clements, and Peter Del Vecho:

Deleted Scenes (12 minutes): There are only a handful of deleted scenes available to watch and most are worth watching. The director's manage to tell you what is going on and what was cut from them briefly, although the deleted scenes are in black and white and are shown in sketches and not full production.

"Never Knew I Needed" Music Video by Ne-Yo (4 minutes): I think Ne-Yo is still a one-hit wonder, and this song didn't do much for him from what I recall. The song is kind of catchy but nothing you're going to go out and download.

Bringing Life to Animation (8 minutes): The director's talk about how they brought what the creative writing team drew into the movie and then the final results. I found this to be quite interesting and worth a viewing if you are into the whole drawing aspect or how films are made.

Princess Portraits Game: This game ticked me off to no end until I figured out that the lightning bugs were displaying a portrait and you had to guess who it was by moving the cursor over to whoever it described. I played this for about ten minutes and gave up on it. I don't know how this is interesting or fun for kids outside of thirty seconds.

** BLU-RAY EXCLUSIVES **

The Making of a Princess (22 minutes): By far the best exclusive (sans the DVD/Digital copy) available for Blu-Ray buyers, as everything from past animation to present is discussed. The crew talks about their influences from the movie and getting the process going, why they chose the animation route, and other various ideas. This is well worth a viewing and one that I hope you watch right away. I never knew the difference between hand drawn animation or any other type of animation, but I do now and I must say there's a big difference.

The Return to Hand Drawn Animation (3 minutes): This flick is a return to hand drawn animation, as detailed by the directors and also the name of the extra. The crew discusses their involvement with the animation process and other realms of the film in an interesting manner that is indeed worthy of a viewing.

The Disney Legacy (3 minutes): This extra dives into the past Disney flicks that involved musicals and animated adventures. For some reason all of these extras are so short that they could have been combined into one, but I guess to make it seem like the Blu-Ray gets a bunch of extras they didn't. This is still worth a viewing, although once again it is oddly short.

Disney's Newest Princess (3 minutes): The cast and crew discuss Tiana as she is Disney's latest princess to enter the fray. Hearing Rose talk about the character is quite insightful, so I definitely recommend a quick viewing.

The Princess and the Animator (2 minutes): Princess Tiana is looked at and similar to other extras here, her character is shown being drawn and discussed. The directors talk about their idea for her and past influences on the character.

Conjuring the Villain (2 minutes): The villain gets a little extra dedicated to how he was made by the crew. David is entertaining here in the few lines he gets and this is worth a viewing.

A Return to the Animated Musical (3 minutes): The crew talks about the influences of past princess movies and how they wanted to make a musical film since it had been so long. Yet another interesting segment that runs far too short.

There are also several Art Galleries that you can thumb through that involve the characters from the movie, although I'd be hard pressed to find an actual reason you'd want to.



---
.::AUDIO & VIDEO::.
---
Pristine quality from Disney on their Blu-Ray picture transfer as usual. The transfer is by far one of the best releases to date and easily demo material. Colors are absolutely astounding the entire duration of the film, as every scene had breath-taking visuals that caught me by surprise when I saw them. Colors are never abundant or too rich in detail to be distracting, and at no point did I detect any overblown colors, which is a huge plus for an animated flick. Contrast is also, as you can tell, deserving of glorious praise as not once did I notice any screen too dark or too light in comparison to one another. There was also never a time when I saw any amount of real noise or grain, despite the fact there were maybe two scenes where I did detect slight noise but nothing that blurred the screen or my vision to where I could knock off points. Disney, yet again, you mesmerize me with your amazing transfers.

The track accompanying the movie, DTS-HD Master Audio 5.1, is another stellar performance from the folks at Disney. You know what, I'm praising them so much for this track that I should be getting a job there! Dialogue levels sound exactly how they should, as from start to finish my sub turned on and never turn off! Plus, the fact that I never had to tweak the levels when characters were speaking was great to note since I've been doing that a lot recently. Surround sounds are used extensively the entire time and since this is a musical expect them to get a giant work out. My surround sounds were pounding throughout each musical number and in all honesty sounded wonderful. The only problem I have with this track is that at times the sound was a bit muffled when going from musical to dialogue scenes, but other than that this is a near-perfect track and I assure you demo material.



---
.::OVERALL::.
---
The Princess and the Frog is a truly outstanding Blu-Ray that is demo material on all accounts. The technical package is awesome, the special features package amazing, and the movie is entertaining enough to keep family and friends interested for repeat viewings. This is a flick that belongs, no, needs to be in your collection. Let's all go down to the bayou everybody!