Quarantine (2008) [Blu-ray]
Genre(s): Drama / Horror / Mystery / Thriller
Sony || R - 89 minutes - $39.95 || February 17, 2009
Reviewer: Brad Lowenberg || Posted On: 2009-02-05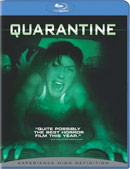 ---
---
---
---
---
.::MOVIE INFORMATION::.
---
Director: John Erick Dowdle
Writer(s):
Cast: Jennifer Carpenter, Steve Harris, Jay Hernandez


Theatrical Release Date: October 10, 2008




.::DVD INFORMATION::.
---
Supplemental Material:
Feature Commentary
3 Featurettes
BD-Live
Technical Information:
Number of Discs: 1
Widescreen (1.85)
English (Dolby TrueHD 5.1), French (Dolby Digital 5.1), Spanish (Dolby Digital 5.1)
Subtitles: English SDH, French, Spanish, Portuguese
Comment on this and other movies on the message board!
---
.::THE FILM::.
---
Angela Vidal (Jennifer Carpenter) and her camera man Scott (Harris) go to the local Fire Station to shoot some interview footage and hopefully get some real-life action. After a rather dull day filled with Angela hitting on nearly everyone in a uniform they finally get their dream - the alarm goes off and Angela and Scott quickly jump on the truck ready to film some action. After arriving at the indoor apartment complex Angela sets up her shot where the local PD have arrived because of odd noises coming from the room of Mrs. Espinoza.

After opening the door... they see the older lady foaming at the mouth with a little blood on her shirt. Trying to calm her down won't work and as one of the police officer's approaches her... she lunges for his throat and takes a nice chunk out of it. A nearby officer and Fire Fighter take him downstairs so he can be treated when a Firefighter falls from the top of the complex smacking hard on the concrete floor. Trying to get assistance from outside sources does not work because they are locked in. Why? The outside world believes there is a potential disease inside the building and decides to quarantine them just to be safe. Angela believes this story needs to be told and shoots every minutes of it Ė even potentially her last.

Entirely filmed on a hand held camera... prepare for a major case of motion sickness. Like Cloverfield, I found it tough to watch Ė I was constantly looking away from the screen to regain my composure and not feel the need to run for the toilet bowl. Luckily, Quarantine is not as bad since we get still shots a bit more often and the camera does not jump up and down every 5 seconds.

With that out of the way, let's talk about the acting. I say this a lot, but I really mean it here Ė itís all over the place. I love Jennifer Carpenter Ė she was great in The Exorcism of Emily Rose and I love her in "Dexter", but here she goes from being annoying to KILL HER NOW! She screams cries and shows all the emotions one might have in a situation like this... but her voice just grates at my nerves. I was hoping for her to die early on just so I wouldn't have to hear her voice but sadly that never happened. The rest of the apartment tenants rage from nameless individuals who don't speak to the show-killing Dania Ramirez (Maya from "Heroes"). Certainly a well diverse set of individuals but I couldn't care less for any of them and thanked my lucky stars when each one was picked off.

Coming off as a poor rip-off of Cloverfield (even though itís a remake of [REC]) - I'd advise most to just skip it. Starts off just a bit too slow (even with an 89 minute running time), has no character development and last scene we see in the film is present on the damn Blu-ray case.



---
.::SPECIAL FEATURES::.
---
All Features Presented in SD.

Commentary with Writer/Director John Dowdle & Writer/Producer Drew Dowdle

Featurettes (26 Minutes):
- Locked In: The Making of Quarantine
- Anatomy of a Stunt
- Dressing the Infected

- - Sadly, we get a pretty poor showing of featurettes here. We get a general walk-around of the apartment complex, a look at a characters death and how some of the special effects and makeup were done. Informative? Yeah, but I wanted more.

Also included is a BD-Live portal.



---
.::AUDIO & VIDEO::.
---
Quarantine is presented in 1.85:1 (AVC) on a 50GB Disc. It's hard to judge this because itís supposed to be filmed on a handheld camera and we sometimes get light blooms, out of focus shots and other issues that we have to sit through because itís intended. Is the quality nice? Yeah, but itís not great. I'll give it a pass because the things I mentioned are intended, but we can't let them have too much slack.

Sony has included a lossless (English and Portuguese) 5.1 TrueHD track as well as a French and Spanish DD5.1 track. Once again, hard to judge because of what we are suppose to "hear". Nearly everything is handled by the front and center speakers with rears only being active every once and a while. It starts off very slow... and by the end of the film the track really picks up some steam. Dialog is iffy, because, once again, itís intended to be that way. Subtitles available in English SDH, French, Spanish and Portuguese.



---
.::OVERALL::.
---
A total mess of a film and probably only worth a rental for those that loved Cloverfield. Quarantine fails where Cloverfield succeeds and poor acting means this one should stay on the shelves.