The Queen (2006)
Genre(s): Biographical / Drama
Miramax || PG13 - 103 minutes - $29.99 || April 24, 2007
Reviewer: Brian Oliver || Posted On: 2007-04-21
---
---
---
.::MOVIE INFORMATION::.
---
Director: Stephen Frears
Writer(s): Peter Morgan (written by)
Cast: Helen Mirren, Michael Sheen, James Cromwell, Helen McCrory, Alex Jennings, Roger Allam, Sylvia Syms


Theatrical Release Date: October 6, 2006




.::DVD INFORMATION::.
---
Supplemental Material:
Filmmakers' Commentary
Historian Commentary
The Making of 'The Queen'
Technical Information:
Number of Discs: 1
Widescreen (1.85)
English (Dolby Digital 5.1), Spanish (Dolby Digital 2.0)
Subtitles: English, Spanish
Comment on this and other movies on the message board!
---
.::THE FILM::.
---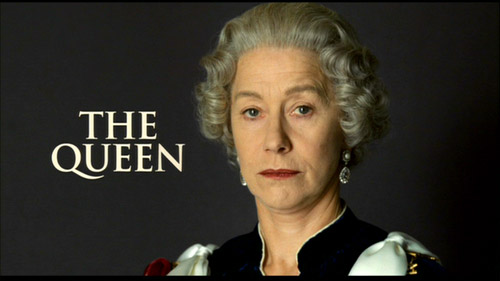 Plot (from DVD back cover): In the wake of Dianaís death, the very private and tradition-bound Queen Elizabeth II (Mirren) finds herself in conflict with the new Prime Minister, the slickly modern and image-conscious Tony Blair.

When I first saw The Queen in theaters a few months back, I felt it was a good film highlighting an outstanding performance but offers little else. After seeing it again now on DVD, I still think the same, although as a whole, itís still a fine movie.

What is good about The Queen, outside of Mirrenís Oscar winning performance, is the direction by Stephen Frears who mixes archive/stock footage of Diana, the funeral procession and other occasions during the period, with film footage. He effectively utilizes video of Diana throughout adding some emotional depth of not only a woman always in the public eye, but it also gives some insight into the Monarchy and their feelings on her (or lack there of).

Helen Mirren gives one of those performances where the player gets so lost in a role that you forget youíre watching an actress, and itís not the makeup or wardrobe either. Mirren crafts a character that isnít bad or wicked, but one that is dead set in her ways. Whether or not that is in fact the case with the real Queen, I donít know, but for the purpose of this film, in a way, it does work.

That said, I also feel The Queen plays it too safe at times. Neither Queen Elizabeth II nor Tony Blair -- played semi-effectively by Michael Sheen -- are cast in a negative light. Writer Peter Morgan portrays both characters as flawed but understandably flawed and places most of the negativity on their aides and advisors. All that is fine and perhaps should be applauded otherwise the movie could be construed as biased and unfair. I canít hold the middle-line stance as a negative aspect, but it doesnít do any favors for the story.

The Queen as a whole is a good movie but nothing on the scale of other modern historical films. See it for Mirrenís amazing performance, if youíre fascinated with the monarchy or with Princess Diana, but this is not a classic by any means.



---
.::SPECIAL FEATURES::.
---
Filmmakers' Commentary - The first commentary has director Stephen Frears and writer Peter Morgan providing the looser of the two commentaries. This one dabbles in certain elements of making the movie but most of this is filled with dry humor and general chatter between two guys.

Historian Commentary - The more formal of the two features British Historian and Royal Expert Robert Lacey examining nearly every element of the movie from what scenes did or did not happen as well as his thoughts on Queen Elizabeth and the week this film chronicles. This track is well laid out and fascinating to those interested in the Monarchy.

The Making of The Queen (19:30) - This Ďmaking-ofí is split into three parts covering everything from actors playing real characters, set design and the week this film covers when Diana was killed. It features various sound bites from the cast and crew explaining their process of playing the characters and their thoughts on the death of Diana.



---
.::AUDIO & VIDEO::.
---
The Queen is presented in anamorphic widescreen, 1.85 OAR, and all told, it looks perfect. Save for a helicopter shot sweeping over a vast land (featured in just about every ad), the picture isnít anything unique but Frearsí uses a mixture of pleasant colors mixed with the archive footage, blending each very nicely.

The only English option is the standard Dolby Digital 5.1 which utilizes Alexandre Desplatís score, dispersing it through each speaker while the dialogue is confined to the center speaker. Given this is 99.5% dialogue driven -- the music leading up to Dianaís death is excellent --, this track is more than suitable.



---
.::OVERALL::.
---
The Queen might not be a classic film but it is worth seeing for Helen Mirrenís performance. Between the theater, DVD (with and without commentary), I have now seen it four times and each one, while nicely crafted, doesnít hold as well for me. As one of the commentators mentions, this was a popular film in Britain (obviously) but as an American, it might only be worth one viewing...