Scary Movie 4 (2006) - Unrated Widescreen Edition
Genre(s): Comedy
Miramax, Dimension || Unrated - 91 minutes - $29.95 || August 15, 2006
Reviewer: Brian Oliver || Posted On: 2006-08-17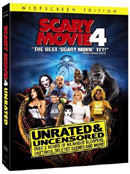 ---
---
---
.::MOVIE INFORMATION::.
---
Director: David Zucker
Writer(s): Shawn Wayans & Marlon Wayans & Buddy Johnson & Phil Beauman and Jason Frieberg & Aaron Seltzer (characters by), Craig Mazin (story), Craig Mazin & Jim Abrahams & Pat Proft (screenplay)
Cast: Anna Faris, Regina Hall, Craig Bierko, Bill Pullman, Anthony Anderson, Carmen Electra, Chris Elliott, Kevin Hart, Cloris Leachman, Michael Madsen, Dr. Phil McGraw, Leslie Nielson, Shaquille O'Neal, Molly Shannon


Theatrical Release Date: April 14, 2006




.::DVD INFORMATION::.
---
Supplemental Material:
Filmmakers Commentary
Deleted and Extended Scenes w/ Optional Commentary
Bloopers
The Man Behind the Laugh Featurette
Zany, Spoof Humor Featurette
The Visual Effects of Scary Movie 4
Youngbloodz
Rappers... Actors
Theatrical Trailer
Technical Information:
Number of Discs: 1
Widescreen (1.85)
English (Dolby Digital 5.1), French (Dolby Digital 5.1)
Subtitles: English, Spanish
Comment on this and other movies on the message board!
---
.::THE FILM::.
---
The Scary Movie franchise keeps rolling along with its fourth installment that takes on movies like The Grudge, War of the Worlds and Saw amongst others. I remember seeing it in the theater and feeling silly for laughing at these sophomoric jokes but at the time, it was funny. However, my experience watching Scary Movie 4 on DVD was a lot like the one I had with Scary Movie 3, the jokes already felt old and played. Itís bad news when a film that was old less than five months ago already lost its repeat value.

Itís not to say I didnít laugh at all as some scenes still were good, primarily the end as Zucker and company parody the Tom Cruise/Oprah Show fiasco to great extremes (and I donít think it was too far off in how insane Cruise might actually be). And along the way there are a couple other spots that work such as the Charlie Sheen cameo, but in all, most of the jokes felt like some bad ďSNLĒ skit.

As for the ďunratedĒ stuff, there were a couple items like the three ďHeffĒ-girls getting into a pillow fight or a few other sex-related items. Honestly, the fact the MPAA left in the Sheen/Viagra joke at all is amazing. From what I could tell, there was around 5 minutes of extra footage, not sure if it made the movie funnier or not (doubtful), but at least it was more than a minute.

Shame to say, but where the first one was truly hilarious, the rest of these sequels donít hold any repeat value (well, Scary Movie 2 was just plain awful from the get-go) and any hope that Zucker and the rest will find gold and get back to the good old days of Airplane! are done. Theyíve found this style of spoof/parody and I guess theyíre sticking to it. Oh well.

Original Review:
The Scary Movie franchise has been a successful one for Miramax Films -- save for the awful second entry. After the third grossed $110 million dollars (easily making it the biggest of them them all up to this point), it was obvious that a franchise that promised "No sequels" would not die. When I first watched Scary Movie 3 in the theater, the juvenlile humor in me got me to laugh at the lamest, dumbest jokes. Upon watching the movie again on DVD however, at best, a chuckle might've escaped.

This fourth entry takes on recent blockbusters and Oscar winners including War of the Worlds, the two Saw films, Million Dollar Baby, Brokeback Mountain, The Village and The Grudge (to name the majors). Scary Movie 4, once again under the control of spoof mastermind David Zucker, does a great job poking fun at several movies (horror genre or not) as well as certain people in the news (Michael Jackson again, the President, etc).

The funniest moments for me came in the bookends with Dr. Phil and Shaq doing a spoof on the original Saw and Tom Ryan (Bieko) on "Oprah" making fun of the Cruise/couch-jumping fiasco. In between I had fun as Zucker and company go after War of the Worlds, a movie that I liked overall but felt was very silly... even for a science fiction flick. They even tackle the infamous pod sucking scene as, in WotW, Cruise fights to save his daughter, and although the spoof was funny (Tom Ryan gets sucked into a butt), nothing is funnier than the original (hint: a woman's anatomy).

Scary Movie 4 features more cameos than I think I've ever seen. For example, here are just a few: Chris Elliott (was also in #2), Michael Madsen, the aforementioned Dr. Phil and Shaq, Charlie Sheen (reprising his role from #3), Chingy (in a dumb quick joke), Carmen Elektra (also in #3 as well as the romantic-comedy spoof, Date Movie) and, the most interesting of the bunch, Bill Pullman who was in The Grudge. Also making quick returns from SM3 are Simon Rex and Anthony Anderson, who contribute VERY little in the comedy department.

I compare these last two Scary Movies to junk food. Sure, it's good at first, but you'll regret it later. Much like late night TV"SNL" skits, the jokes are funny, but like that friend who tells the same one over and over, you get tired of it. I'm afraid it's the same way with the Zucker Scary Movie's. Airplane has been in our culture for 26 years now and no matter how many times I watch, be it TV or DVD, it's still funny as hell... it is a true classic not only in its genre but amongst the critically claimed ones as well.

Why? Well, I can only imagine it's because Airplane was spoofing disaster films in general (much like the original Scary Movie mocked horror movies), but these last two have taken great pains in remaking each memorable scene that in short time, they'll feel tired (of course, this will feed the franchise making it almost mandatory, since viewership is still there, for more sequels).

String together so many skits and hope half hit the funny bone, is what Zucker and the rest hope for, and I'd say they, for the most part, succeeded. Hopefully this one will transfer better onto DVD, but I'm not holding my breath.

In any case, if you liked the third one and aren't a movie snob and still can laugh at penis and fart jokes, then this should entertain you for the, quite short, 83-minute runtime (without credits, it's probably closer to 75-minutes). Scary Movie 4 will make you groan, grimmace, yell "ewww!" but it'll also make you laugh; after which you'll grab a McDonald's bacon-cheeseburger, a large fry and a large Coke. Yum.



---
.::SPECIAL FEATURES::.
---
Like Scary Movie 3, Dimension provides more features than the film probably deserves (not to say I prefer barebones like the original; speaking of which, where is the Unrated Edition of that???).

Filmmakers Commentary - Director David Zucker, Producer Robert K. Weiss and Writer/Producer Craig Mazin sit down for another commentary after Scary Movie 3 (save for writer Pat Proft) and spend the majority of time lamb blasting themselves for the jokes that didnít work (like the crane gag near the beginning). Some of their comments on these jokes were funnier than the joke itself, so I did find the commentary worth listening to.

Deleted/Extended Scenes w/ Optional Commentary (13:43) - There are 15 extended or deleted scenes and all of them were taken out for good reason outside of one or two that I did get a chuckle out of. The President, in order to prevent the aliens from taking the Declaration of Independence, removes it from its secure case and puts into what he thinks is a metallic safe, when in fact it was a shredder. Yeah, dumb for sure, but Iím easy to entertain I guess. The guys mainly groan at most of these, especially the crane scene.

The Man Behind the Laugh (3:41) - A short featurette on director David Zucker and his laugh that infects the cast and crew, even while filming. Very little insight into Zucker, but he does explain his humor.

Zany, Spoof Humor - Zucker Style (2:56) - A companion piece to the previous featurette just explains more about the spoof genre and provides some behind-the-scenes footage.

An Interviewers Worst Nightmare (4:56) - A woman they paid to get interviews with the cast and crew get jazzed some as they refuse to answer her questions or just goof off some. Actually pretty funny, but also pointless.

The Visual Effects of Scary Movie 4 (8:30) - Another short featurette with interviews with the special effects crew commenting on replicating shots from other movies and the time some of these shots took.

The rest Iím going to just combine into the really pointless category: Youngbloodz (3:23), Rappers... Actors (2:35) plus a theatrical trailer.



---
.::AUDIO & VIDEO::.
---
The film is presented in anamorphic widescreen, 1.85 aspect ratio and, well, itís a comedy so it looks perfectly fine. Itís crisp and clean, so I canít ask for more.

You have the usual Dolby Digital 5.1 audio mix. Nothing outstanding, of course, but the horns from the tri-pods and the farts should come through nicely on your system.



---
.::OVERALL::.
---
Scary Movie 4 is certainly not a bad movie and does provide a few laughs for those who, like me, donít mind juvenile humor. The biggest drawback, though, is once youíve seen or heard the jokes, they donít resonate as well as other comedies like Airplane. The Scary Movie franchise is the xXx of the comedy genre: good for what it is, but do not put up against the likes of Wedding Crashers or The 40-Year-Old Virgin.