She's the Man (2006) - Widescreen Edition
Genre(s): Comedy / Romance
Paramount || PG13 - 105 minutes - $29.95 || July 18, 2006
Reviewer: Brian Oliver || Posted On: 2006-07-17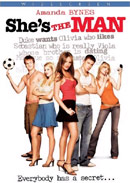 ---
---
---
.::MOVIE INFORMATION::.
---
Director: Andy Fickman
Writer(s): William Shakespeare (inspired by the play, "Twelfth Night"), Ewan Leslie (story), Ewan Leslie (screenplay) and Karen McCullah Lutz (screenplay) & Kirsten Smith (screenplay)
Cast: Amanda Bynes, Channing Tatum, Laura Ramsey, Vinnie Jones, Robert Hoffman, Alex Breckinridge, Julie Hagerty, David Cross


Theatrical Release Date: May 17, 2006




.::DVD INFORMATION::.
---
Supplemental Material:
Director, Producer/Co-Writer & Cast Commentary
Producer & Producer/Co-Writer Commentary
Pop-Up Trivia
Making the Man
The Troupe
Inspired by Shakespeare's...
Deleted Scenes
Gag Reel
Cast Photo Gallery
Music Video
Theatrical Trailer
Technical Information:
Number of Discs: 1
Widescreen (1.85)
English (Dolby Digital 5.1), English (Dolby Digital 2.0), French (Dolby Digital 5.1), Spanish (Dolby Digital 2.0)
Subtitles: English
Comment on this and other movies on the message board!
---
.::THE FILM::.
---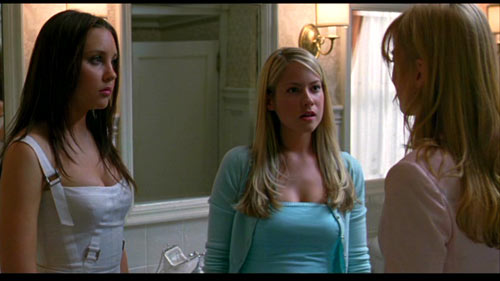 "Duke wants Olivia who likes Sebastian who is really Viola whose brother is dating Monique..."

She's the Man is an updated adaptation on William Shakespeare's "Twelfth Night" and although the movie as a whole wasn't that funny, I still found parts to be at least semi-enjoyable and Amanda Bynes, despite some comic miscues, is charming and cute.

Viola Hastings (Bynes) loves soccer, so when her high school cut the girls team, and she was not allowed to try out for the boy's team, she takes matters in to her own hands. Viola's twin brother, Sebastian, is going to London to play at a concert with his band, leaving a vacant spot at this new school, Illyria, so Viola has the bright idea to turn herself into her brother, join that school's soccer team and show that she can play with the guys (and against her real school in the first game).

Going in, you know that suspension of disbelief is a must in order to enjoy a single second of this unbelievable and stupid plot -- one that belongs on Disney or The N --, but even so, there's a limit. Viola (as Sebastian) gets a roommate in their soccer star Duke (Tetum), who is a guy's guy but one that, outside of believing his new roomie is strange, Duke doesn't seem to question for one second that Sebastian is, well, could be a transgender. OK, so maybe this could be chalked up to: A) a 17-year-old late bloomer or B) a dumb jock. Item two, even those close to the real Sebastian, don't realize he's a foot shorter or he has a high pitched voice. Of course, that could be due to neglectful parents (who are divorced and don't know where either of their kids are), therefore I can sustain the suspension for a little longer.

The thing of it is, I can accept the premise of She's the Man but only if the story works and is actually funny. Amanda Bynes is funny in that early teen, obvious kind of humor way, but for those who've seen one too many movies, it doesn't work. For instance, Viola (as herself) goes to a debutante affair, sees a woman, Olivia (Ramsey) who she thinks is after her crush, Duke, so in her fury, she stuffs her mouth full of food and acts un-lady-like.

I know Bynes young and hails from TV land ("What I Like About You"), so she's still growing as an actress, going from TV to movies, which in itself is difficult. Look at Hilary Duff as a prime example. Duff started out on Disney's "Lizzy Maguire" and made an OK entrance into feature film. Both of these actress, while cute and possess at least some talent, are thrusted to be that next A-list actress of the future. But, at the same time they're getting heavy press, they're given screenplays that do not allow them to grow. Unlike Lindsay Lohan who broke out in 1998's Freaky Friday and 2001's Mean Girls, has moved to some more challenging parts, such as A Prairie Home Companion. It's not to say she's out of that teen movie phase as demonstrated by Just My Luck, but it's commendable to take some chances.

But, I truly digress (I'm way off course), Bynes is a funny, attractive actress who needed a better script here. Fortunately, the movie is saved from a position in movie purgatory with the supporting cast, primarily Vinnie Jones as the soccer coach and David Cross as Principal Gold. As a fan of the sadly cancelled "Arrested Development", I find Cross's comedy hilarious with this voice inflection, creepy mannerisms and his deadpan comic delivery:

Gold: "Malcolm, have you ever tried to run away in high heels?"
Malcolm: "No."
Gold: "It's not that easy."

Julie Hagerty also appears as Viola and Sebastian's old fashioned mother. Her performance seemed to come from the Ryan Reynold's comedy, Just Friends. Same character, different title.

She's the Man is enjoyable enough but still isn't anywhere near other teen Shakespeare-inspired movies like 10 Things I Hate About You or even the darker and dramatic O, but given its target audience, and the fact I normally cannot stand the teen genre, I was at least a tad surprised I laughed at all.

One thing I will say, it should be interesting to look back on this and see who out of this bunch will break out and become recognizable outside the genre (see 10 Things which introduced us to Heath Ledger and Julia Stiles).



---
.::SPECIAL FEATURES::.
---
Since this is a teen flick, the features are also geared toward that segment as well. That said, while not entirely in-depth, it's still a solid set of features worth checking out once.

Director, Producer/Co-Writer & Cast Commentary - Thankfully, all the participants are, I believe, in one room and can easily chat it up and give their own stories while making the movie. Commentators include: director Andy Fickman, producer and co-writer Ewan Leslie and cast members Amanda Bynes, Channing Tetum, Laura Ramsey, Robert Hoffman and Alex Breckenridge. This is definitely a much more entertainment-based track, so those who enjoy that kind, will probably have fun listening to it. One thing, with seven people talking, I had a hard time telling who was whom as Tatum could've been Hoffman; Bynes, Ramsey and Breckinridge sound alike; and Fickman and Hoffman aren't that distinctive (although, since one is the director, you can tell).

Producer & Producer/Co-Writer Commentary - Ewan Leslie, who seemed to be quiet on the first track, goes another round with producer Laura Schuler Donner. This is more technical in nature, but still lively and informative, a good alternative to commentary #1. Both participants provide plenty of information and while I didn't think it was better than the cast one, it was still enjoyable.

Pop-Up Trivia - Sort of a companion to either commentary, the pop-up trivia gives various tid-bits about the filming of She's the Man as well as little anecdotes about soccer and whatever other subjects presented.

Making the Man (15:02) - Standard behind-the-scenes featurette that puts a face to what the cast talks about on the commentary. It shows the fun they had on the set and how enjoyable the experience was.

The Troupe (7:46) - Not sure why this is on here (as the making-of featurette would've sufficed), but this time around we get individual introductions to those involved with the filming and each other.

Inspired by Shakespeare's... (4:20) - Shows how the movie took it's cues from Shakespeare's "Twelfth Night", sprinkling in references like Illyria or using various names from the play to the movie (Xander, Toby, etc).

Deleted Scenes (11:10) - There are nine scenes in all, none of which were that funny, except the couple that Cross appears in. In the optional commentary (with Fickman, Leslie and Bynes), the director explains they were deleted, or cut down in the case of extended scenes, due to pacing and wanting to get to the end quicker.

Gag Reel (3:17) - Fun, but also disappointing since it was mentioned on the first commentary how David Cross liked to use different lines on each take. One was used during a featurette, but that was it. Would've been nice to include these.

The DVD rounds out with a cast photo album, music video and a theatrical trailer.



---
.::AUDIO & VIDEO::.
---
Paramount's She's the Man is presented in anamorphic widescreen (1.85) and looks as perfect as it should be since it's a new release. The colors are bright and crisp and outside a scene or two, director Fickman keeps his style low-key and by the book.

You have the option of either Dolby Digital 5.1 or the standard 2.0 mix. Nothing outstanding, of course, but satisfactory given what this is.



---
.::OVERALL::.
---
As far as DVDs go, this one has some decent special features that, if you like that kind of thing, might be worth renting to watch. The movie itself, though, is a one viewing and done deal for me. Yeah, some of it was tolerable and Bynes herself is cute, but the story didn't really click and it does cater to one age group and does not wander out of it.