World Trade Center (2006) - Two-Disc Special Collector's Edition
Genre(s): Drama / History
Paramount || PG13 - 129 minutes - $34.99 || December 12, 2006
Reviewer: Elyusha Vafaeisefat || Posted On: 2006-12-16
---
---
---
.::MOVIE INFORMATION::.
---
Director: Oliver Stone
Writer(s): John & Donna McLoughlin and William & Allison Jimeno (true story), Andrea Berloff (written by)
Cast: Nicolas Cage, Michael Pena, Maggie Gyllenhaal, Maria Bello, Stephen Dorff, Jay Hernandez, Michael Shannon


Theatrical Release Date: August 9, 2006




.::DVD INFORMATION::.
---
Supplemental Material:

Disc 1:

Director Commentary
Will Jimeno & 9/11 Rescuers Commentary
Deleted/Extended Scenes w/ Optional Commentary
Trailer Gallery


Disc 2:

Making of World Trade Center Documentary
Common Sacrifice Documentary
Building Ground Zero
Visual and Special Effects
Oliver Stone's New York
Q & A with Oliver Stone
Photo Gallery
Theatrical Trailers & TV Spots
Technical Information:
Number of Discs: 2
Widescreen (1.85)
English (Dolby Digital 5.1), English (Dolby Digital 2.0), French (Dolby Digital 5.1)
Subtitles: English, Spanish
Comment on this and other movies on the message board!
---
.::THE FILM::.
---
Note: Screen shots not taken from DVD.

After the disappointment of Alexander, Oliver Stone decided to take on a totally different subject matter in 9/11. This story is about two officers, Will Jimeno (Michael Pena) and John McLoughlin (Nicolas Cage) who were trapped in the rubble of the World Trade Center. It truly is a remarkable story for the fact that they were among two of the 20 or so people that survived out of the 3,000 who were there on that day.

The film itself doesn't really take any type of political stance which is odd for an Oliver Stone film. It seems as if Stone was looking for a film with more mainstream appeal after Alexander was such a financial flop and critical disappointment. Stone knew that if he made the film too political, it would turn off many people who are still sensitive to that event. That being said, I think Stone does a solid job of telling the story of these two men and their families.

It's hard not to compare this film to another 9/11 film that was released earlier this year in United 93. While both films take on the same event they are totally different in terms of how they tell the story. United 93 feels more like a documentary style with its use of lesser known actors and a great deal of handheld camera work. In contrast, World Trade Center has several well known stars and is more of a traditional Hollywood film. It reminds me a great deal of all the patriotic films Hollywood churned out after World War II. I think the truth is that one cannot really make a political film based on 9/11 so soon after the events.

It will take time for people to heal and for more information to come out. That being said, I found World Trade Center a solid piece of filmmaking but still too mainstream to have any real affect on our opinions of the events. I think that is where United 93 surpasses World Trade Center. United 93 attempted to show both sides of the event and the results of the convergence of those two sides. I still think World Trade Center is worth seeing because it tells a great story of these two men and what their families went through on that day.



---
.::SPECIAL FEATURES::.
---
While the film itself may have not been the best possible film based around 9/11, the extras on the DVD are some of the best I have seen from recent releases. The DVD is loaded with a great deal of extras in the 2 disc package.

The first disc has two commentaries. The first is by Oliver Stone. Stone talks about the difficulties in shooting in such a confined space for the two actors. He also talks about the difficulties in staying true to the events but at the same time realizing that he is not making a documentary but a feature length narrative film. Stone also discusses how he got involved with the project and supports why he chose the actors he did.

The second commentary is by Will Jimeno himself as well as three of his rescuers, Scott Strauss, John Busching and Paddy McGee. This commentary is definitely much more engaging than Stone's for the fact that it is the actual men who were there that day talking about their experiences. The commentary is dominated mostly by Jimeno himself as discusses even more detail about his emotions being stuck underneath all the rubble for such a long period of time. We also get an appreciation for life and their families as all the men discuss in their own words how they were affected by these events. I found this commentary very unique because it is not often that you get to hear commentary from the people who a movie was based upon.

Also included in the first disc are 9 deleted/extended scenes which run about 17 minutes in total. Stone also provides a commentary for each scene and as you would expect, he just discusses why he took out the scenes that he did. Most of the scenes are extended sequences of what we already saw in the film. We see more scenes with the families of these men and their emotions. I think Stone already did a goof job in showing that in the film so ultimately he did the right thing in cutting them out.

Rounding out the extras on the first disc is a trailer gallery for films such as Dreamgirls, Babel and An Inconvenient Truth.

The second disc contains a great deal of extras that cover basically every part of the film.

The first is the Making of World Trade Center. It is a documentary that is divided into three parts. The first is called Committing to the Story and it runs about 15 minutes. Here we get to see what attracted Stone to the project and how he and the actors eventually were attached to the film. Next is Shooting in L.A. and New York. This featurette runs about 20 minutes and discusses some of the restrictions and hardships in shooting the film in actual locations in New York. We also see a great deal of detail in making the sets to scale and how some of the actual officers involved with 9/11 were affected emotionally because of the realism of those sets. The final portion is Closing Wounds, which runs roughly 18 minutes. It focuses on the rescue team as well as composer Craig Armstrong and his approach to writing the score for this film.

The next documentary is Common Sacrifice, which is split into two parts. The first is Rescue, which runs about 27 minutes. The entire documentary focuses on wives and families of Will Jimeno and John McLoughlin. We get to see a great deal of how these people were affected and still are affected by these events more than 5 years ago. The second part is Recovery, which also runs about 27 minutes. This focuses more on the point of view of the doctors and nurses who performed surgery and worked on the physical therapy for both these men. It is a very interesting angle to look at and made me think that one could make an entire film based on the affects on these people after the event rather than during the event. This feature also includes graphic photos of the operation on John McLoughlin.

The next feature is Building Ground Zero, which runs 25 minutes. In this extra we see the production designers and art directors working on replicating the rubble and debris of the World Trade Center. We also see how they had a great attention to detail and did the best they could to be accurate. The complexity in recreating these sets is definitely seen in this feature.

Visual and Special Effects is the next extra on the DVD. It runs 12 minutes and obviously focuses on the special effects for the film. I found the effects to be the strongest aspect of the film. After seeing the effects crew working so hard in recreating these iconic images in this featurette, it is easy to see why the effects turned out so seamless.

Next is Oliver Stone's New York which is a very interesting look at Oliver Stone's past. It runs 24 minutes and feels more like a therapy session than a featurette. Stone discusses his childhood growing up in New York as well as his thoughts on Vietnam and how he got involved with this film.

The final extra is a Q & A with Oliver Stone at BAFTA which runs about 13 minutes long. Stone discusses why he chose to not have a political opinion in the film and why he wanted the make the film have a more universal appeal rather than taking a certain side.

Rounding out the extras is a trailer for the film, 6 TV Spots and a photo gallery.



---
.::AUDIO & VIDEO::.
---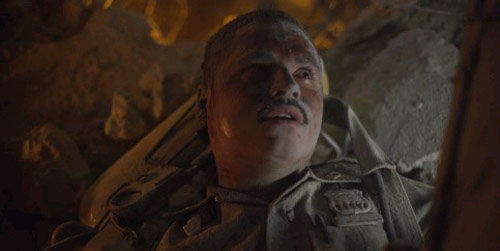 As with the DVD's for most big budget Hollywood films, I didn't really find any obvious problems with either the video transfer or the audio. The film is presented in anamorphic widescreen with 1.85:1 aspect ratio. The contrasts between the dark rubble and the strong natural light come off very well.

The audio is equally as good with an option for English 5.1 Surround or a 2.0 also available. There is also an optional French track also in 5.1.



---
.::OVERALL::.
---
While the film itself may not be a masterpiece, the job the DVD producers did was fantastic. The extras are plenty and as I mentioned, they cover almost every possible area of the film's production. The special features actually complement the film rather well in terms of letting the audience see more into the real lives of the people involved as well as the filmmakers. It will be interesting to see if Stone makes another film based around September 11 in the future.