300 (2007)
Genre(s): Action / Adventure / Drama / Historical Epic / War
Warner Brothers || R - 117 minutes || March 9, 2007
Reviewer: Kushmeer Farakhan || Posted On: 2007-03-09
---
.::MOVIE INFORMATION::.
---
Director: Zack Snyder
Writer(s): Zack Snyder & Kurt Johnstad and Michael Gordon (screenplay); Frank Miller and Lynn Varley (graphic novel)
Cast: Gerard Butler, Lena Headley, Dominic West, David Wenham
Comment on this and other movies on the message board!
"Tonight, we dine in Hell!!!"
Wow. Another comic book movie already. It's almost a never-ending stream of them now. But you know what? I say bring it on. It's my favorite genre and I'm happy that it continues to thrive. So who is it this time? Spider-Man? No, not for another couple of months(and by the looks of it, part 3 looks to be Amazing, pun intended). Another sojourn into the filthy alleys of Frank Miller's Sin City? Nope, though you'd be much closer. No, today I viewed the fearless Spartan Warriors of Frank Miller's 300.

300 follows the proud and powerful King Leonidas (Gerard Butler) as he leads his small army of but 300 men against the tyrannical and seemingly endless hordes of the Persians and their king. The movie is an historical fantasy where we get to see the infamous Spartan army march through the world taking down Persia's various allied armies. For me, there wasn't much more to the film than that.

But is that a bad thing? Not in the case of 300. There are a handful of things you could find fault with in the film but none of them are major. If you're a history stickler, yes there are many things here that don't quite match up to how things "really happened" but….well, who cares? This is comic creator Frank Miller's fictional account of how things went down back then, not a college history course. Then there are a handful of, for lack of a better term, "monster" characters in the film and I know some audiences might find them silly but within the context of the film, they work. Why? See my previous point. And finally, the biggest complaint I've heard of the film that admittedly even bothered me at times, is the(perhaps at times) over-usage of the slow motion shot. For every two that looked cool, one was unnecessary. But again, small quibbles.

What's good about the film? Everything else. Gerard Butler as Leonidas is particularly awesome. There's not a second that he's phoning it in and it's quite obvious that he wholeheartedly believes in every second of dialogue that sprang from his mouth. Another plus? The fight scenes and hand in hand with those, the CGI special effects. 300 (like Sin City) was shot almost entirely behind green screen. For it's credit, it's not all that noticeable. Clearly, something amiss but you wouldn't automatically assume that they're not on a live location unless you knew beforehand.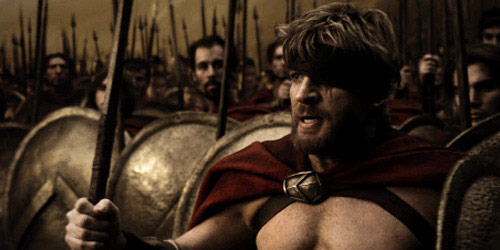 Finally, there's director Zack Snyder who is slowly proving himself to be much more than what film fans first gave him credit for when he released the extremely entertaining, yet kind of silly, remake of Dawn of The Dead in 2004 (and before you say anything, yes, I DID love it and still like it very much.) His work here is very clean and polished and you can tell he was just the man for the job. Snyder is supposedly in preproduction on a film adaptation of acclaimed graphic novel, "The Watchmen" (which is more or less The Godfather of the comic world). I think it's in good hands.

So if you're a comic fan, a fan of manly action films, or just looking for some unapologetically violent entertainment, go see 300. It's a spectacle to behold.